Chief Kee-wau-nay to get Historical Marker
By Shirley Willard, Fulton County Historian
Local historians have long thought a historical marker for Potawatomi Chief Kee-wau-nay should be erected but it was never done. Now for Indiana's Bicentennial, Pulaski County Girl Scouts are planning to erect a huge boulder with metal plaque at Lake Bruce. Actually it will be in the Pleasant Hill United Methodist Church cemetery. The dedication will be Saturday evening of the Trail of Courage, Sept. 17 at 7 p.m., followed by a carry-in supper inside the church. Everybody is invited to attend and bring food to share and their own table service. This is the Gold Award project of Rachel Ploss, Girl Scouts of Northern Indiana-Michiana Pulaski County Troop 47609. Mary Conner, Winamac, is the Scout leader. The huge boulder is from the Ploss farm at Star City.
There will be Potawatomi guests coming from several states. Each year the Trail of Courage honors a different Potawatomi family that had ancestors on the Trail of Death or signed treaties in Indiana. This year it will be John "Rocky" Barrett, tribal chairman of the Citizen Potawatomi Nation, Shawnee, Oklahoma.
One reason a historical marker was not erected in previous years is that we don't know for sure what happened to the old chief after he went to Kansas. I have contacted many Potawatomi historians and we put together the most accurate information possible today. With the Internet and web sites of today, research is better than any previous time in history. But still there are gaps.
George Winter was an artist who came to Indiana to sketch the Indians in the 1830s. The Indiana Historical Society published two books of Winter's Indian portraits and notes. The Indiana Historical Society also published three volumes of John Tipton papers. Tipton was the Indian Agent at Logansport, who was sent by Indiana Governor David Wallace to round up the Potawatomi and march them west. This march from Indiana to Kansas in 1838 became known as the Trail of Death because so many died on the way.
This is what we know from Winter and Tipton.
Kee-wau-nay was a war chief and took part in the Battle of Tippecanoe in 1811. He fought on the side of The Prophet, brother to Tecumseh. Kee-wau-nay's village was at Lake Bruce, then called Lake Kee-wau-nay. The town of Kewanna, Indiana, is named for him. He signed treaties in 1826, 1832, and three treaties in 1836. Various spellings appear on different treaties. Kee-wane and 2 other chiefs, O-kaw-wause (aka One Eyed)and Nee-bosh (or Twisted Head) were granted eight sections of land in 1832, which was ceded (sold to the US government) in 1836. A treaty council was held at Lake Kee-wau-nay July 1837, attended by George Winter the artist who sketched it and then painted portraits of the Indians. Winter also wrote about the Indian dance that night and the funeral of O-ga-mause's sister. O-ga-mause is the same as O-kaw-wause. Winter called him an old chief, which might mean 50 or 60 years old, assuming he was at least 20 in 1811.
From August to October 1837 George Proffit conducted 47 Potawatomi, including Chief Kee-wau-nay and Chief Nas-wau-kay of Lake Maxinkuckee, from a camp at Logansport, Indiana, to Kansas.
When he got to Kansas, Nas-wau-kay called for a priest so Father Christian Hoecken came and founded St. Mary's Mission at Sugar Creek. The next year, 1838, Chief Menominee's band of 859 Potawatomi were forced to go there on the Trail of Death and lived at Sugar Creek for the next 10 years. In 1848 they moved further west to St Marys, Kansas. In 1861 they signed a new treaty that offered them land in Oklahoma and citizenship, hence becoming the Citizen Band of Potawatomi. Their headquarters today is in Shawnee, Oklahoma.
Wgema (meaning chief) Kiwani is the actual Potawatomi name for Chief Kee-wau-nay. It is believed that Wgema Kiwani went to Wisconsin and was buried near the town of Kewaunee, Wisconsin. Several Potawatomi researchers think this was our Chief Kee-wau-nay.
The project will cost the Girl Scout troop $1,000 for the concrete footer, metal plaque and cost of having it attached to the boulder. Citizen Potawatomi Nation has donated $500. The girls are working hard to raise the rest of the funds. If you wish to help, send a check to Potawatomi Trail of Death Assn., 37 E 375 N, Rochester IN 46975, and note it is for the Chief Kee-wau-nay marker. Thank you.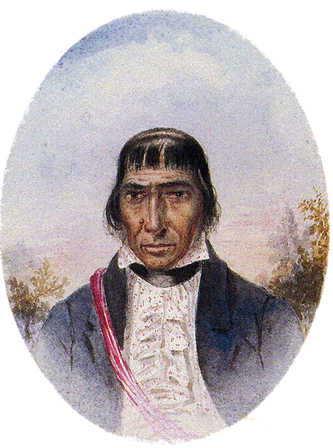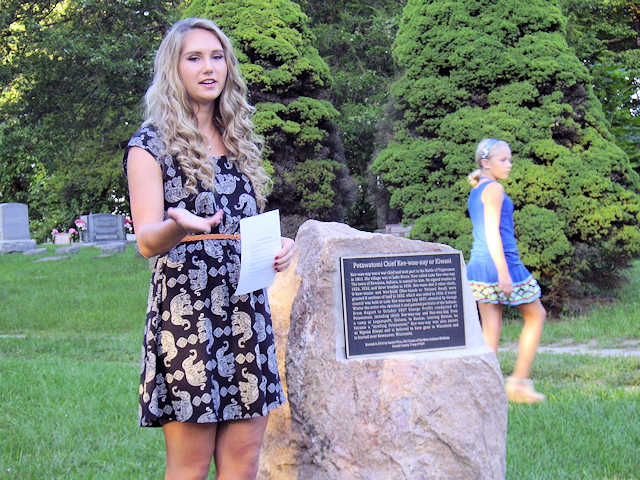 Rachel Ploss, Pulaski County Girl Scout, thanks the crowd for helping with her project of erecting a historical marker for Potawatomi Chief Kee-wau-nay at Pleasant Hill U.M. Church, Lake Bruce. The boulder is from her parents' farm near Star City. About 50 people attended the ceremony Sept. 17 and enjoyed a carry-in supper in the church.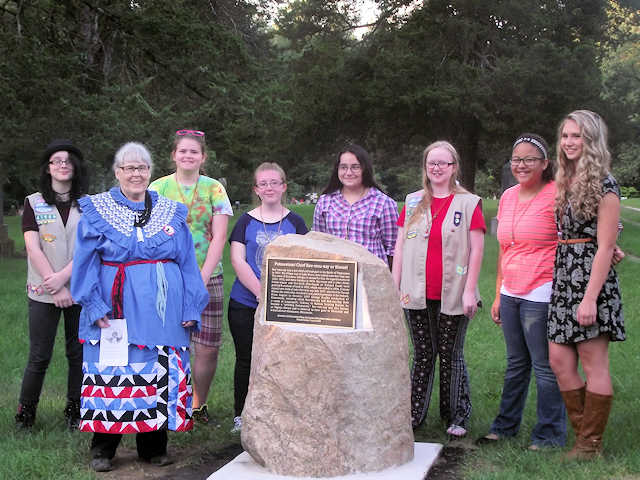 Girl Scouts of Northern Indiana - Michiana Pulaski County Troop 47609 erected and dedicated a historical marker for Potawatomi Chief Kee-wau-nay at the Pleasant Hill U.M. Church at Lake Bruce. Fulton County Historian Shirley Willard (front) helped with the project. The girls are (L to R), Kelsey Conner, Kaitlyn Cleveland, Jasmine VanVoorst, Alexis Nicolas, Claire Conner, Faith Pratt, Rachel Ploss - who did the project for Scout Gold Award. The boulder is from her parents' home at Star City. Not pictured: Danae Neuenschwander. The dedication was Sept. 17, followed by a carry-in supper in the church. Matching funds were donated by the Citizen Potawatomi Nation, Shawnee, Ok. (Photo: Mary Conner, Scout leader, Winamac)