Father Petit Relatives Coming to Trail of Courage
Julien Petit, a 28- year- old Frenchman, who is a relative of Father Benjamin M. Petit, is coming to the Trail of Courage Sept. 17-18. Father Petit went with Chief Menominee's band of Potawatomi on the 1838 Trail of Death from Indiana to Kansas and died in St. Louis on his way back. He is buried under the Log Chapel at Notre Dame University.
Because of Father Petit's importance in Indiana history, this is a big addition to the Bicentennial. There have always been good and bad events in history, and the forced removals of the American Indians from Indiana is a black mark on the state's history. We cannot change history, but we can learn from it. We acknowledge the human error made by the Indiana Governor in 1838 in authorizing General John Tipton to round up the Potawatomi and forcibly march them to Kansas. This forced emigration is known as the Trail of Death because over 40 died on the way and are buried in unmarked graves. Today's Hoosiers regret this inhumane act and wish it had never happened, and we humbly express our sincere sorrow for this event.
Julien's grandfather Andre Petit wrote:
I was born in Tunis (Tunisia) the 15th of March 1943 when Tunisia was French. My father was a French Army officer. My mother never had a job, she was a housewife to raise my brother and me. My father and grandfather were born in Tunisia too, as well as my mother who was originally from Malta. I came back to France with my parents in the 1950's. I am a former customs officer but now retired and live in Agen (southwest France) with my wife, Viviane.
My childhood was spent in Carthage by the sea and in 1958, the Tunisian Government removed us to France where we first lived in Cahors (little town in southwest France). I spent there my adolescence; then I engaged in French Army (Parachutist Regiment). An accident during skydiving made me stop my military career two years later. I then worked in Agen, another town in southwest of France for a farming association, specifically working on climatology, irrigation and fight against hail. Problems with my director made me quit that job.
I passed the customs service examination and then moved into Saint Malo in Bretagne as a sailor for customs office. I stayed there three years, then moved to Corsica for nine years and Toulon for 20 years, first on a ship, then the last six years in a tackling drugs and weapons traffic unit.
I retired in 2006 and went back to Agen, where my two children were born: Florence, in 1968, mother of three children (Julien 28, Garance 19 and Esteban 14) who live in Rodez. My son, Francois, was born in 1973, father of two children (Clement 6 and Victor 4) who live on Reunion Island.
Julien wrote about himself:
I'm 28 years old and single. I am a chemistry teacher in high school near to Paris. I was born in La Seyne sur Mer near Toulon the 20th of April 1988 and lived there until I was 8. My mother then moved to Rodez (southwest) to follow her spouse. I passed my adolescence there and went to Toulouse University for sciences studies. The campus looked like American campus with a lot of green spaces. I have a Physics, Chemistry and Teaching Master degree (five years of studies) and passed a teaching examination. I then moved to Saint Germain en Laye near Paris for my job.
The school where I work is a private Catholic middle and high school with 1,900 pupils from ages 11 to 19. I don't know the American educational system so I don't know the differences between French and American schools and how to describe mine. I have a project for working 1 or 2 years abroad. Maybe in the U.S. in a French or international high school - it would be my choice but it depends on the offers.
Julien wrote about Rev. Benjamin M. Petit:
My grandfather always heard about him and saw some documents in relation with him when he was younger. I heard about him because of genealogical research of my grandparents and family stories when I was about 12. His story is really unknown in France and all my research about him came from English written documents. His devotion and story are really amazing and I have interest about it particularly as he was my age when he went with the Potawatomi and died. Thanks to my grandfather Andre I got interested to our family tree because he first made researches on that as a hobby.
Julien wrote about stories of our family:
The father of Benjamin was named Benjamin too (1789-1816). He was married to Anne Chauvin and lived in a little castle in Carce, near Rennes (Bretagne, France). He was vice-president of the tribunal court of France. My grandfather has in his possession his eulogy. (I send you the first page but I can send you more or translate it, but it is 40 pages long...)
The two brothers of Benjamin Marie Petit worked for justice too:

Louis Petit (Rennes 1814-1896) was a lawyer, then director of Banque de France in Rennes. He liked painting and playing music. He was a founder of "Le journal de Rennes", a local newspaper.
Paul Petit (My great grand grand...father) was president of Commercial court (market court) in Rennes. He then went to Tunisia (which was part of France) to operate a vineyard, which was successful. Then all my family branch stayed in Tunisia until 1956.

My grandfather also told me about a letter from Louis or Paul (he can't find it anymore), where he talks about Benjamin's decision of joining the Church: apparently he had a heartbreak and decided to change his life. (I'm not sure about this story.) I don't have more information about Benjamin because he early joined Potawatomi and died soon after.
Julien describes his previous trip to the U.S:
I know how huge the U.S. is. I travelled for a road trip three years ago in the West of the country. I started from LA to Yellowstone, passing by Pacific coast, San Francisco, Yosemite, Grand Canyon, Monument Valley... during two weeks. I would have needed more time to discover all this country.
About rivers and fur trading, I watched the film called "The Revenant" with Leonardo Di Caprio. Did you watch it? It takes place in this region and at the same era as Benjamin. It presents how difficult was life but I don't know if it is very representative.
Shirley's answer: "The Revenant" is not near where Father Petit lived. He did not go further west than Kansas. The fur trade era took place in Indiana too but was quite different from the Rocky Mountains. There is still fur trapping done in Indiana today.
Julien tells about his home town:
I was born and lived my 8 first years in La Seyne sur Mer near Toulon on the Mediterranean Sea. It has 60, 000 inhabitants, with a fishing port and some beaches. Toulon has a natural harbor and when I was young we went to Toulon by ship (ferry boat), crossing the harbor and passing by French Navy aircraft carriers to go to the mall, etc. (because Toulon is a very big city). After my moving I still spent my holidays there, in my grandparents' house, going to the beach and riding my bicycle a lot. I participated to cycling competitions until I was 23.
The town named Luc is where my parents live and where I passed my adolescence. It has 5,000 inhabitants but a lot of houses are isolated in little villages; typically my house is in a 20 inhabitants village, two miles of downtown where there are a church, a post office, a bakery, about 20 stores but no police station. There is an elementary school but middle and high schools are in a bigger city (Rodez), 10 miles away, where my brother and sister actually study and where I studied too. My high school had about 300 pupils. But my sister is in another one, bigger (1,000 pupils)
The city I live in and work is Saint Germain en Laye (40,000 inhabitants) in a Paris suburb. It is a very quiet and bourgeois. There is a castle where was born Louis XIV, king of France and it is 10 miles north of Versailles which is most famous. La Seine, the river crossing Paris, passes by Saint Germain too. The city is a bit higher than La Seine and from my high school there is a very nice point of view on the Eiffel tower, Montparnasse tower, and La Defense business district which are 10-15 miles away.
None of these towns are in mountains but I travelled a lot in Alps and Pyrenees to hike. I love it. I started very young with my grandparents when I was three years old.
After the terrorist attack at Nice, France, in July 2016, Shirley Willard anxiously emailed Julien to see if he was ok. He emailed back that he was in the Pyrenees hiking so was not on holiday at the beach where the truck driver killed over 80 people.
Click here for Father Benjamin M. Petit's Family Tree - Ancestors of Andre Petit.
Paul Marie Petit was the younger brother, born in 1812, of Father Benjamin Marie Petit, born in 1811.
Their parents are at the left top of the chart, Benjamin Raymond Marie Petit (1789-1816) and Anne Marie Renee Chauvin (1790-1862). At the bottom of the chart is Andre Petit, Julien Petit's grandfather. Andre and Julien Petit are flying from France to attend the Trail of Courage Sept. 17-18. You are invited to come meet and welcome them.
| | |
| --- | --- |
| | |
| Julien Petit, age 28, a high school chemistry teacher in southern France, is coming to the Trail of Courage Sept. 16-18. He will fly into Chicago and rent a car to drive to Rochester. Julien is a 4th great nephew of Father Benjamin M. Petit, who ministered to the Potawatomi on the Trail of Death forced removal from Indiana to Kansas in 1838. | Andre Petit, with his grandson Julien Petit, will come to the Trail of Courage Sept. 16-18, arriving Friday evening to see the special screening of "Like Birds in a Wind Storm," the documentary by Susan Green about the Trail of Death. The screening will be in the Fulton County Museum and is free. The documentary is sponsored by the Citizen Potawatomi Nation, and utilizes videos from the six caravans every 5 years from Indiana to Kansas. The documentary also shows re-enactors and Potawatomi at the Trail of Courage. See fuller description in 2016 Trail of Courage in this website. Andre is the 3rd great nephew of Father Benjamin M. Petit. |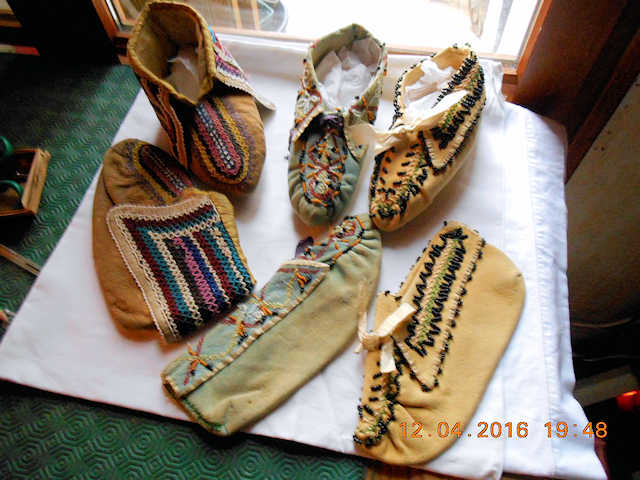 These are Indian shoes (moccasins) that Father Benjamin Petit sent home to his family. They may not be Potawatomi moccasins. Probably Benjamin bought them to give to his family as souvenirs. Or maybe some people gave them to him. They appear to be new and not worn.

Julien and Andre Petit will speak at 1:00 to 1:30 on the Hillside stage at the Trail of Courage Sept. 17-18, 2016.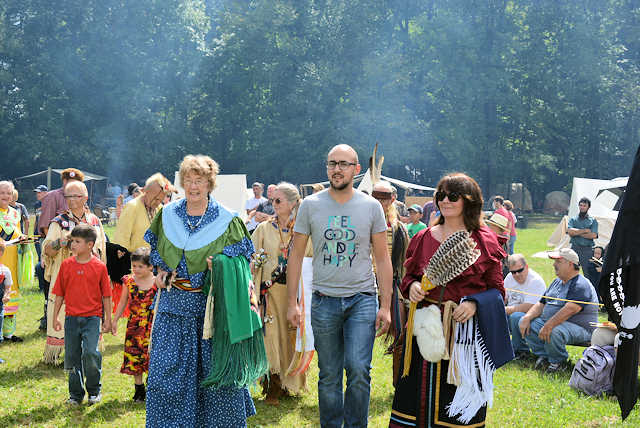 Julien Petit joins the Indian dances at the Trail of Courage with Pat Godfrey (left) and Tracy Locke.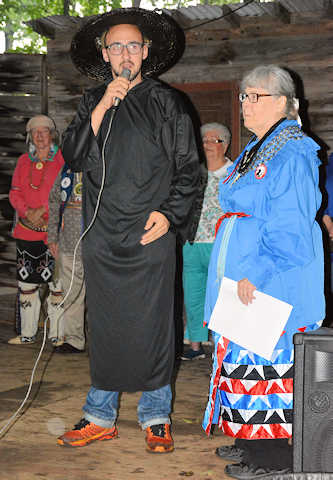 Shirley Willard(right) presented Julien Petit with a black straw hat and black robe like what Father Benjamin Petit wore. In his journal Benjamin recorded that he bought a black straw hat for $1.25 on June 13, 1838. Shirley could not find a black straw hat so she spray-painted it. Behind them on left are Potawatomi: George Godfrey, Bob Pearl and Teresa McNary. (Photo by Andre Petit)
---
Petits visited Trail of Courage and Notre Dame
By Shirley Willard, Fulton County Historian
Great nephews of Father Benjamin Marie Petit, 1811-1839, attended the Trail of Courage and then toured Notre Dame University on their way home. Benjamin was the eldest son of Benjamin Raymond Marie Petit and Anne-Marie Renee Chauvin. He had two younger brothers: Paul Marie, born 1812, and Louis Marie Petit, born 1814. Our visitors are descended from Paul.
Julien Petit is the same age as Father Petit was when he went with the Chief Menominee's band of Potawatomi on the 1838 Trail of Death forced removal from Indiana to Kansas. Father Petit died in St. Louis on the way back to Indiana, dying from typhoid, the disease that killed so many of the Potawatomi on the trail.
Last spring Julien was looking for Father Petit on the Internet and found my website www.potawatomi-tda.org. He emailed me, asking about his ancestor. He said Father Petit's story is not known in France because most of his history was written in English. I immediately invited him to the Trail of Courage. He asked his grandfather, Andre Petit, to come with him.
While here they were honored with a Key to the City of Rochester from The Winning Edge, presented by Mayor Ted Denton. I gave Julien a black straw hat and long black robe like Father Petit wore. He recorded in his journal June 13, 1838, that he paid $1.25 for a black straw hat. I couldn't find a black straw hat so we spray-painted one.
At the end of the Trail of Courage festival, Julien and Andre gave me a knife engraved "Shirley," with a leather sheath and a metal sharpening stick. They also gave us a copy of the Petit genealogy. Julien said the family thought Benjamin had a failed romance and that is why he decided to come to America and be a priest. His obituary was published in the Cincinnati, Ohio, Telegraph March 7, 1839,newspaper. So wonder we could not find it in Indiana.
While in Rochester, they were the houseguests of Bill and Carolyn Baldwin. They took them for a drive around Lake Manitou, lit up by a full moon.
Baldwins accompanied the Petits on a special two-hour tour of Notre Dame, conducted by a French-speaking priest. They visited the Log Cabin Chapel where Father Petit and three other missionary priests are buried. They also toured the Basilica and its museum, the football field where they saw "Touch Down Jesus," the Golden Dome administrative building, and Athletic Center. Then they went to the book store and Legends restaurant where the waitress showed them many photos on the walls. The Petits drove back to Chicago to fly back to France., a nine-hour flight.
Julien plans to come back in couple of years. We hope so.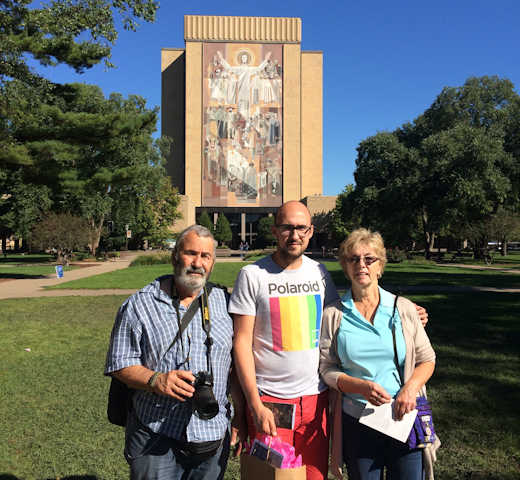 Andre Petit and grandson Julien Petit pose with Carolyn Baldwin in front of "Touch Down Jesus" at Notre Dame University.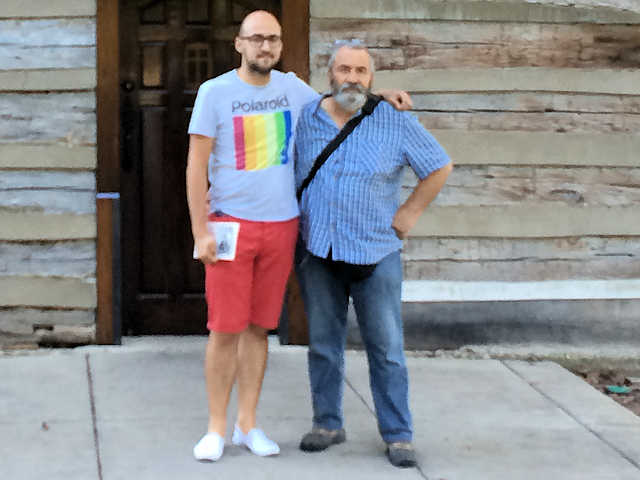 Julien Petit and grandfather Andre stand in front of the Log Cabin Chapel at Notre Dame University where their 4th great uncle Father Benjamin Petit is buried with other missionary priests.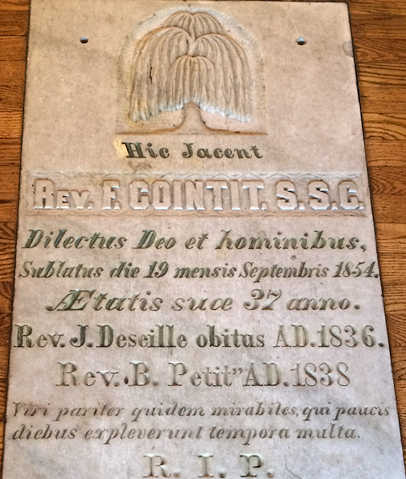 This plaque on the floor of the Log Cabin Chapel marks the burial place for Rev. Petit and the other missionary priests who served the Potawatomi Indians in Indiana.