Central Park Plaza
Go west on East College Avenue to downtown Jacksonville. Turn north (right) on Mauvaisterre Street and go one block and turn west (left) into the city parking lot. This is Central Park Plaza, which in 1838 was referred to the public square. The Trail of Death marker is located along the sidewalk on the northeast corner of the park. The marker is east of the amphitheater and faces the sidewalk. The plaza is between Morgan, Sandy, Court and Mauvaisterre streets. Morgan and Court streets are closed to vehicular traffic.
Tuesday 2nd Oct. [Marched around town square in Jacksonville, Illinois.]
We struck our tents at 8 this morning, and prepared for a march. Owing to the very great curiosity manifested by the citizens generally, Judge Polke, after being solicited, marched the emigration into the square, where we remained for 15 or 20 minutes. Presents of tobacco and pipes in abundance were made by the citizens to the Indians, who appeared quite as much delighted with the favor shown them as with the excellent music of the Band which escorted us around the square. [Diary is continued in next place.]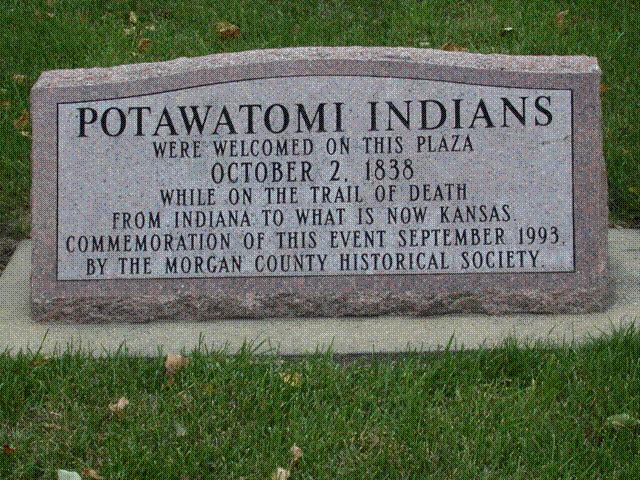 Jacksonville, Illinois - town square, now called Central Park Plaza. GPS N-3944077 W-9013732.
Erected in 1993 by Morgan County Historical Society and president Vern Fernandes. (Photo by Larry Prichard, Lynn, Indiana, on Trail of Death Commemorative Caravan, 2003.)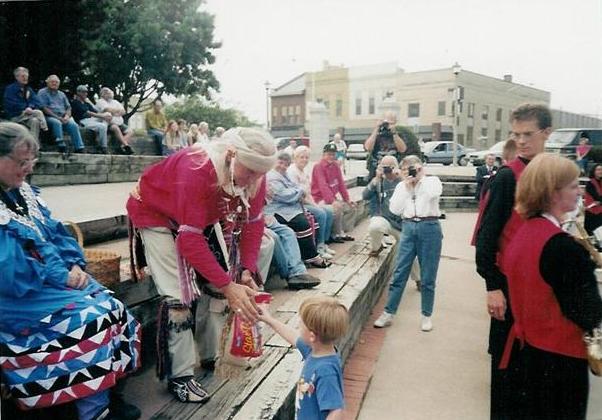 Jacksonville, Illinois - amphitheater in Central Park Plaza. GPS N-3944077 W-9013732.
A little boy hands a bag of candy to George Godfrey to re-enact when the people of Jacksonville gave gifts of food and tobacco to the Potawatomi on the Trail of Death. Pictured are Shirley Willard on left, Susan Campbell seated right, Barb Kline, George Wesselhoft. Standing are 2 men with cameras - probably Howard Kline and Eric Campbell, Eileen Pearl with camera. (Photo by Bill Willard, 1998)