Piatt County, Illinois
East Bridge St.
The Trail of Death marker for Pyatt's Point is in present-day Monticello. The historical marker is at the north end of the City Cemetery on the west side of Monticello. To find the marker, turn right (north) at the intersection of 1550N and Market Street. Follow Market Street to Livingston. Turn left (west) onto Livingston for a few blocks and go to N. Park Street. Proceed on N. Park for 1 block to Railroad Street, which passes under railroad overpass. Follow Railroad Street for about 1 block to cemetery, which will be on the left. The Trail of Death marker for this site is beside the street, just up a small grassy slope.
The other Trail of Death marker is on Bridge St., which is a very busy street so it is best to park at the cemetery and walk across the railroad track and around to Bridge St. The Trail of Death marker is on the south side of Bridge St. next to a steel fence.
Sunday 23rd Sep [traveled 15 miles from Sadorus to Pyatt's Point, now called Monticello, Illinois, on the Sangamon River.]
Left our encampment at 8 o'clock, having been detained for an hour at the request of the Rev. Petit, who desired to perform service. The day was clear and cold. Our way lay across another portion of Grand Prairie, which we found without timber for 15 miles. Physician report "the number of sick is 40. There have been 2 deaths since my last report, and 4 or 5 may be considered immediately dangerous." A child died early this morning. One also died on the way to our present encampment. We are at present camped on the Sangamon River, along the banks of which our route tomorrow lies. Subsistence, beef and flour - better, however, than usual.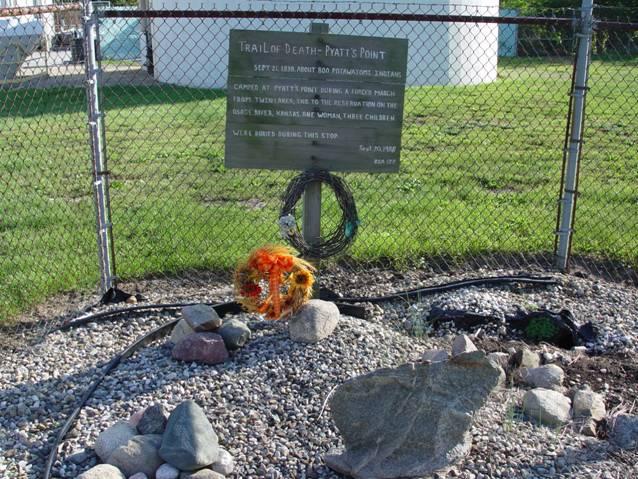 Monticello, Illinois - East Bridge Street. GPS N-4001673 W-8834533.
Monticello was called Pyatt's Point in 1838. Wooden sign located on west 100 block of East Bridge Street. Erected in 1988 by Boy Scout Daniel Valentine for Eagle award. (Photo by Larry Prichard, Lynn, Indiana, on Trail of Death Commemorative Caravan, 2003.)