Piatt County, Illinois
Sangamon Crossing
Proceed straight (west) on Railroad Street to stop sign. Turn left (south) onto West Union, which becomes Allerton Road and heads southwest out of Monticello. Stay on Allerton Road for about 7 miles, pass south entrance to Allerton Park (on the right) and go about 1.5 miles. Turn right (west) onto 1300N for 1.6 miles. (This intersection is odd and the sign for 1300N is off to the left, partially obscured.). Turn left (south) onto 350E for 0.6 mile. Turn right (west) onto 1220N for 0.8 mile. 1220N has a short section that runs NE-SW. Turn left (south) onto 275E for 0.9 mile. Turn right (west) onto 1100N for 0.7 mile. Turn left (south) onto 200E for 2 miles. 200E has some sections that run NE-SW. Turn right (west) onto 1075N for 1 mile. At this point 1075N junctions with IL48 that goes to Cerro Gordo. Turn left (south) on IL48 for 1 mile. Turn right (west) onto 950N which becomes Donavan Road and runs along side of Sangamon River. Sangamon Crossing will be about 1.2 miles after 950N becomes Donavan Road. Sangamon Crossing is in private ownership. It has a dirt road leading to it that is blocked by a gate composed of two metal bars that cross over the road. It is presumed that the Trail of Death crossed the Sangamon River at this point. The marker denoting the Sangamon Crossing encampment is on the opposite (west) side of the river at the east end of Caleb Road.
Continue on Donavan Road 1.9 miles to Ruch Road. Turn left (south) onto Ruch Road and go 0.3 mile. Turn right (west) onto Cabin Road for 1.5 miles. Turn right (north) onto Oakley (crossing Sangamon River) for 0.9 mile. Turn right (east) onto Caleb for 0.8 mile to the historical marker denoting encampment at Sangamon Crossing. The Trail of Death marker is on the southeast corner of Dunbar and Caleb roads, near a house. This is known as the Sangamon Crossing (crossing of the Sangamon River).
Monday 24th Sep, traveled 15 miles from Monticello to Sangamon Crossing in Illinois.
At 9 this morning we left Pyatt's Point and proceeded down the Sangamon River 15 miles. Physician reports "there have been 2 deaths since my last report, and the situation of several of the sick is much worse. I would recommend that 29 be left until tomorrow." At the suggestion of Dr. Jerolaman 29 persons were left behind with efficient nurses. They will join us tomorrow. We find a good deal of difficulty in procuring wagons for transportation - so many of the emigrants are ill that the teams now employed are constantly complaining of the great burdens imposed upon them in the transportation of so many sick. A child died during the evening.
Tuesday 25th Sep stayed in camp. To allow the sick left at Pyatt's Point yesterday time to join us, and to give the emigrants generally a respite, and to bring up the business of the emigration, it was determined to remain in camp today. The baggage wagons were weighed and reloaded during the day and matters of the emigrants made more comfortable. Sometime in the afternoon the sick left at the encampment of yesterday arrived. Directly after their arrival a woman among the number died. The rest were but little if any improved. A child also died this evening. The farther we advance the more sickly seems the character of the country. It is sometimes very difficult to procure provisions and forage owing to the general prostration of the husbandry. Most of the Indian men were permitted to go on a hunting excursion today. They brought in a considerable quantity of game.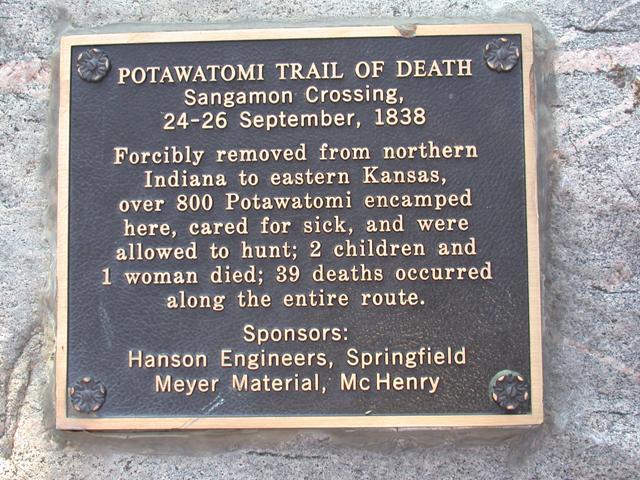 Monticello, Illinois - Sangamon River Crossing. GPS N-3955863 W-8847291.
Located on corner of Dunbar and Caleb roads southwest of Monticello. Erected 1993 by Boy Scout Ryan Berg for Eagle award. Dedicated by Trail of Death Commemorative Caravan in 1993. (Photo by Larry Prichard, Lynn, Indiana, on Trail of Death Commemorative Caravan, 2003.)
Backtrack (west) on Caleb Road and continue going west on Caleb Road. Turn left (south) onto Kirby for 0.2 mile. Kirby turns right and then runs southwest for about another 1.8 miles. At I72 do not enter the highway but go southwest by turning left (south) onto Birch Church Road for 1.5 miles. Turn right (west) onto Garver Church Road for 1.4 miles. Turn left (south) onto Brush College Road for 0.5 mile. Turn right (west) at traffic light onto Mound Road for 0.6 miles. Turn left (south) onto IL48. Pick up IL121 and continue south. Go over large overpass, cross US36, continue south on 22nd Street when IL121 turns left. Take 22nd Street to Lake Shore Drive and take Lake Shore Drive to Mueller Park where Trail of Death maker is located. After turning onto IL48, go about 6.6 miles to Mueller Park.