History of Battle of Tippecanoe 1811
The Battlefield Museum is located on the original site of the Battle of Tippecanoe which took place Nov. 7, 1811. General William Henry Harrison and his army fought the Indians who had rallied under Tecumseh and his brother The Shawnee Prophet (Tenskwatawa). Tecumseh was not there and he had warned his brother not to fight until he got back. But The Prophet, declaring he had a vision, convinced his men that his magic would keep the bullets from hurting them, and they attacked Harrison's army early in the morning of Nov. 7. The Indians were defeated and fled. This defeat led the Indians to join the British forces in the War of 1812. Tecumseh was killed in Canada. The Prophet later went to Kansas, where he died in 1834 and was buried somewhere beneath what is now Kansas City. His descendants live in Kansas today.
John Tipton was a young soldier in the Battle of Tippecanoe under General Harrison. Tipton advanced to Brigadier General in 1817. He served as Indian Agent in Fort Wayne and in 1828 moved the agency to a new town he platted and named Logansport. He later represented Indiana in Washington, D.C., as a Senator. He bought the land where the battle took place and deeded 16 acres to the State of Indiana Nov. 7, 1836, as a memorial.
General Tipton was in charge of the militia that rounded up the Potawatomi for the Trail of Death. He escorted the Potawatomi across Indiana but left the emigration at Danville, Illinois, and returned home to Logansport. Having been appointed by the Indiana Governor, David Wallace, Tipton's power expired at the state line.
General Tipton placed the Potawatomi removal (or emigration as the government called it in 1838) in the charge of William Polke, Rochester, who was appointed as Federal Conductor. At the request of the Potawatomi, Tipton sent for Father Benjamin Petit to come and go with them to Kansas. Much of the misery suffered by the emigrating Potawatomi has been blamed on John Tipton. Some said that Tipton did not allow the Indians time to drink, that the food was rotten, etc. The diary does not indicate this to be true but nobody knows except those who were there. After Tipton went back home, Polke and Petit did the best they could for the Potawatomi but 1838 was a year of terrible drought. The water was scarce and what water they found was stagnant. They got sick with a fever believed to be typhoid. Hence, 42 died on the Trail of Death and were buried along the trail in unmarked graves. Father Petit was placed in charge of the sick. He held Mass every day and officiated at the funerals of those who died. Petit also got sick and died, on his way back to Indiana, accompanied by Abram Burnett, age 26, a full blood Potawatomi. At times Petit was so sick that Burnett had to hold him on his horse. Father Petit died February 10, 1839, at the Jesuit seminary at St. Louis University in St. Louis, Missouri. He was 27 years old and to this day is beloved by many Potawatomi. A book of his letters and baptismal records was published by the Indiana Historical Society in 1941. It was reprinted in 2003 by the Fulton County Historical Society, Rochester, Indiana. See Potawatomi Trail of Death book on this web site.
General John Tipton returned to Logansport and died April5, 1839.In 1942 the Indiana Historical Society published John Tipton's letter in three volumes. The last volume has letters written to and by him are concerning the Potawatomi removal.
One cannot but be struck by the many spiritual aspects of this journey and what happened to the people involved.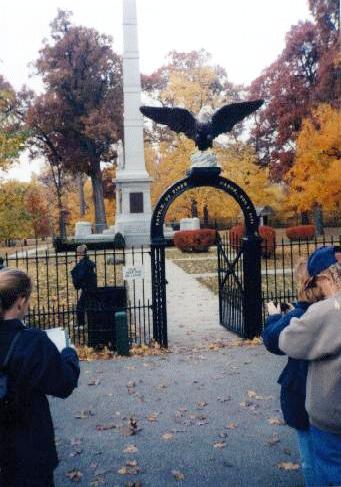 Entry gate with eagle at Battlefield monument grounds. (Photo by Tippecanoe County Historical Assn., which owns and operates the Battlefield and museum.)
Go back toward the main part of Battle Ground and turn west on Prophets Rock Road. You will pass an old log cabin on your right - this was Burnett's Trading Post and is the oldest house in Indiana. William Burnett, a white fur trader, married a Potawatomi woman and had several children, among them Abraham Burnett, who fought on the Indian side at the Battle of Tippecanoe. Abraham adopted his younger cousin, Abram (actually named Abraham B.) Burnett, a full blood Potawatomi. This created confusion as many historians did not realize there were two Abraham Burnetts.
Prophets Rock Road will take you under I-65 and then to 43 and into Lafayette.