Cass County, Indiana
Logansport Hospital Grounds
From the north go on Indiana 25 to Logansport. The Trail of Death marker is north of the Memorial Hospital on the west (right) side of the highway or street. It is a cement slab with words, set into the hillside on the corner of Indiana 25 (Michigan Ave.) and Fulton Street. This and the area to the east to Horney Creek was their camp for 3 days. Because so many Potawatomi were sick, a temporary hospital was set up. Their last Mass in Indiana was there: Bishop Brute & Father Petit came to conduct Mass.
Thursday, 6th Sep: traveled 17 miles, from Mud Creek to Logansport.

Left encampment at Mud Creek at 9 a.m. During the evening, 9 of those left at Chippeway came up.
Friday, 7th Sep in camp on Horney Creek at south edge of Logansport, Indiana:
Two wagons with the 13 persons left at Chippeway arrived in camp today. Kock-kock-kee, with his party consisting of 15 persons, also Co-co-ta, Che-shaw-gen, Way-we-he-as-shuk and Pawk-shuk [this is probably Paukooshuck, son of deceased Chief Aubbeenaubbee] with their families, making in all 18 persons came into camp today. A child died this morning.
Saturday, 8th Sep in camp at Logansport, Indiana:
A child 3 years old died and was buried. Chief We-wiss-sa came in with his family consisting of 6 persons, to join the emigration, -- himself sick. Two wagons that had been sent to Chippeway returned bringing with them 22 persons, the whole of the number of those left behind, save the few who had effected their escape, and 9 others who wished to remain until they were better able to travel. C. Martin has agreed to furnish them while sick at that place.
Sunday, 9th Sep in camp at Logansport, Indiana:
Physicians came into camp today and reported 300 cases of sickness, generally of a temporary character, and which they are of opinion, may be removed by a two-day course of medicine. A kind of Medical hospital has been erected today, which is likely to facilitate the course of medical regime proposed by the physicians. [This is very near the site of Memorial Hospital today.] A child died today. The priest formerly attached to the Catholics among the Pottawattomies, asked and obtained leave to say mass today and perform the ceremonies of his church in camp. The rites are now being performed. [Mass was conducted by Bishop Simon Brute and Father Benjamin Petit. George Winter sketched the scene.] This evening Sidney Williams and Wm. T. Polke [son of William Polke, the conductor] who had been dispatched in pursuit of the Indians who escaped, at Chippeway, returned, having reconnoitered the villages and cornfields on the Reserve without receiving any intelligence of the fugitives. They brought into camp 3 Indian horses which they had found on the road. A child died since dark. [A total of 3 died at Logansport and were probably buried in a cemetery nearby.]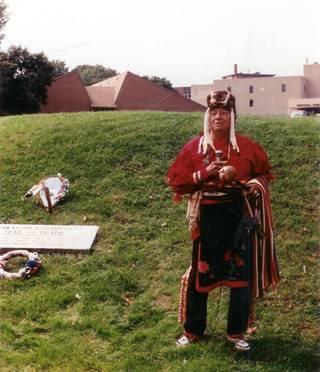 Logansport, Indiana - Logansport Hospital grounds. GPS N-4045651 W-8621615.
William O. Wamego, Tulsa, Oklahoma, stands by the Trail of Death marker at the Logansport hospital. A descendant of Chief Wamego (also spelled Wimego) who was on the 1838 Trail of Death, Bill Wamego was a member of the Citizen Band Potawatomi. They changed their name to Citizen Potawatomi Nation in 1996.
The Trail of Death marker at Logansport is on the west side of State Road 25 on a hillside on the grounds of Memorial Hospital. This is on corner of Fulton Street and Indiana 25. Erected 1988 by Cass County Historical Society. (Photo by Susan Campbell, Seattle, Washington, member of Citizen Band Potawatomi, on 1993 Trail of Death Commemorative Caravan. Susan is a descendant of Che-saw-gan, who was on the 1838 Trail of Death.)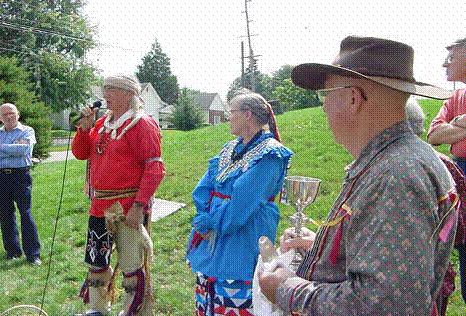 Logansport, Indiana - Memorial Hospital grounds. GPS N-4045651 W-8621615.
George Godfrey speaks to the crowd while Shirley Willard and Bob Pearl wait to speak at the Memorial Hospital grounds on the corner of State Road 25 and Fulton Street. The Trail of Death marker is the white rectangle of concrete on the ground behind Godfrey. Bob is holding the silver chalice that Father Benjamin Petit carried in his saddlebags on the 1838 Trail of Death and used in Mass every day as he escorted the Potawatomi and led them in prayer. Bob's sister, Sister Virginia Pearl, is barely visible to his right. The chalice is owned by St. Francis Xavier Church, Vincennes, Indiana, and was loaned to the Trail of Death Commemorative Caravan in 2003. John Henry is at far left and Richard Copeland, Cass County Historian, at far right. (Photo by Bill Willard, Rochester, IN, a member of the Trail of Death Commemorative Committee and one of the leaders of the caravan.)
To get to the next marker, go south on Michigan Avenue about one block and just before you get to the river, turn east (left) into entrance to River Bluff Trail. The trail runs along side the river and the railroad tracks.