Carroll County, Indiana

Winnemac's Old Village
Leaving Georgetown, continue to follow the river. When you cross into Carroll County the road becomes Towpath Road. You will find the Trail of Death marker for Winnemac's Old Village on the south (left) side of Towpath Road. The nearest crossroads is 112 W. Chief Winnemac was a Potawatomi who took part in the Battle of Tippecanoe in 1811. This was the site of his village but it was abandoned before the 1838 Potawatomi Trail of Death.
Monday 10th Sep, traveled 10 miles from Logansport to Winnemac's Old Village in Carroll County north of Delphi, Indiana.
At 10 o'clock we got under way and proceeded on our journey, leaving behind us of sick and attendants 21. The day was hot but we had the advantage however of being in the vicinity of water, our route lying on the northern bank of the Wabash River the whole distance. We reached our camp at Winnemac's old village at 5 o'clock, a distance of perhaps 10 miles from the camp at Logan. No bacon is to be had, so beef and flour are the rations. A child died since we came into camp. A man also died tonight after several days' sickness.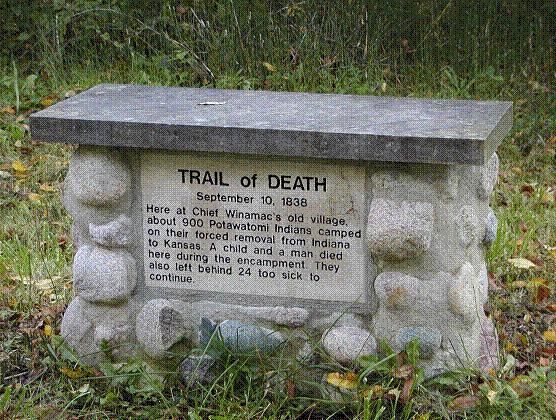 Rural Carroll County, Indiana - Winnemac's Old Village. GPS N-4042783 W-8632709.
Trail of Death camp at Chief Winnemac's old village at 112 W and Towpath Road, north of Delphi. Erected 1997 by Boy Scout Crispen Andrews for Eagle award. (Photo by Mike Dodson, 2003.)
Follow Towpath Road to County Road 700W, then turn right and go up the very steep and high hill. To avoid the high hill - some vehicles cannot make it up that steep hill - follow the river by turning left. This is most likely the actual Trail of Death route.
Going up the hill is not the actual route of the 1838 trek but it takes you to two more Trail of Death historical markers. Go about a mile to CR 800N, turn left. This takes you to the Lawrence VanderVolgen farm.