Pleasant Run near Pittsburg, Indiana
Leaving VanderVolgen's farm, go west and then turn south on CR 800 W. Follow it as it jogs to the west (CR 550 N) and then turn south again on 900 W. About 2 ½ miles takes you to the next Trail of Death camp site at Pleasant Run, a huge boulder with a metal sign. This is before you get to Pittsburg.
Tuesday 11th Sep, traveled 17 miles from Winnemac's old village to Pleasant Run at the edge of Pittsburg, Indiana.
Left Winnemac encampment at 10 a.m. Our route lay through an open champaign country, which rendered the traveling more pleasant than that of any previous day. The sick along with us appear to be recruiting and everything bids fair for a comfortable and prosperous emigration. If we may be allowed to judge from the gayety of our encampments - the bright smiles that gild the sunny faces of our unhappy wards, and the contentment which seems to mark the sufferance of imposed restrictions, we may safely calculate upon the pleasantest and happiest of the emigrations west. [The diarist, Jesse C. Douglas, was obviously not good at predictions! The Potawatomi were bravely making the best of things and keeping their spirits up as best as possible.] Reached next camping site at 5 o'clock at Pleasant Run [creek at edge of Pittsburg]. Provisions beef and flour, bacon difficult to be procured. A source of considerable expense is the foraging of Indian horses. We generally, however, manage to pasture them during our encampment, as cheaply as possible.
[Jacob Hull wrote in a letter to John Tipton, dated Logansport Sep 11, 1838, that "the young man in the family of Mah-sek-wa-ga died this day he is the individual whose life was dispared of some days since - Lewis Burnett or Topenabia complains that his trunk had been opened and robbed of 20 plumes or austridges feathers, 1 Broad Cloth Blanket and 1 whole piece of calico worth in all about 45 or 50 dollars - he missed these on Sunday thinks they were taken when his things were in the wagon. I have no doubt of the truth of his statement - the villon unlocked the trunk - I deemed it proper to make the mater known to you that you could be on your gard if the villean is still in the public employ under your command."]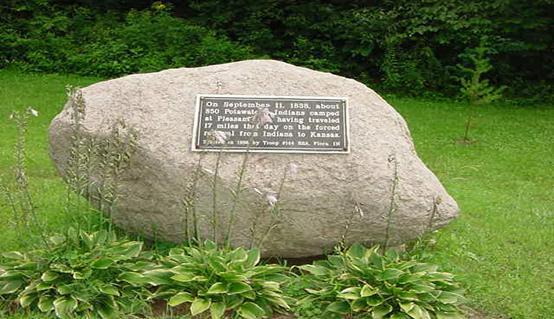 Pittsburg, Indiana - Pleasant Run GPS N-4037590 W-8640738.
Pleasant Run is a creek. Located on west edge of Pittsburg at 800 W and 550 N. Metal plaque on boulder erected by Boy Scout Kris Cannon for Eagle award, Troop 144, 1996. (Photo by Bill Willard, 2003.)
Drive through Pittsburg, stopping for a drink of water at the town fountain. Continue on 900 W south of Pittsburg, jogging to the west on 200 N (also known as Bicycle Bridge Road), then back toward the south and the road turns west on 1000 W. This enters Tippecanoe County.