River Bluff Trail
Drive south from the Memorial Hospital about one block. Turn east (left) just before you get to the river, at the entrance to River Bluff Trail. The trail runs along side the river. This next marker is located on north side of the Eel River and east of Indiana 25 by the railroad tracks. You have to park and walk to the marker, which is beside the wooden bridge over Horney Creek. The Trail is blacktopped and handicapped accessible.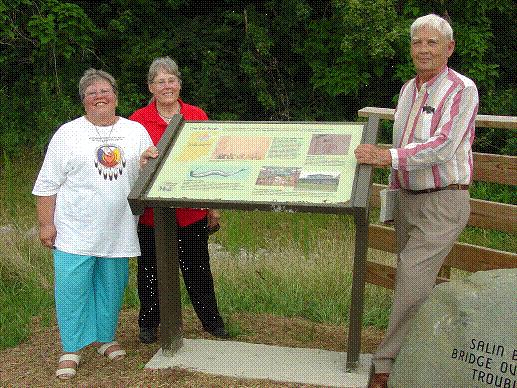 Logansport, Indiana - River Bluff Trail. GPS N-4045655 W-8621348
Located on north side of the Eel River and east of Indiana 25 by the railroad tracks, across the street from the hospital. River Bluff Trail sign tells of Cass County history, including Potawatomi Trail of Death and a picture by George Winter of the Potawatomi leaving Logansport Sept. 10, 1838. The sign and fitness trail were funded by the Memorial Hospital Foundation with donations from the public. The River Bluff Trail sign is beside a wooden bridge across Horney's Creek, where the Potawatomi camped Sept. 6-9 on the Trail of Death. The sign was erected in 2005 and blessed July 26, 2005, by Susan Campbell, descendant of Che-saw-gan who was on the Trail of Death, Shirley Willard, and Tom Hamilton, descendant of Abram Burnett who was on the Trail of Death. (Photo by Elaine Hall, Logansport Memorial Hospital, 2005.)
Sept. 10, 1838, they left Logansport, following the north side of the Wabash River. They did not cross the river.
Driving directions: Turn right at the first street by the railroad unto Miami Ave., and follow Miami Ave. about 4 blocks to Third Street, where you turn left and go one block to East Linden Ave. Go about half a block more and turn right on Wheatland Ave., which you follow for about 2 blocks. Front Street veers to the left and follows the river. Continue on Front Street until it turns west and becomes W. Wabash Ave. This takes you out of town and under the 35 Bypass. Continue to follow the river as you cross the Railroad. Turn left unto Indiana 24, going west. Go about 2 miles west and then turn left at the underpass going to Georgetown. (Georgetown was named for George Cicott, who married a Potawatomi woman.) Turn right at the river and continue to follow the river toward the west.