Tippecanoe County Museum
George Winter Paintings
Side Trip - View George Winter paintings at Tippecanoe County Museum, Lafayette, Indiana.
Most of the paintings made by frontier artist George Winter are in the Tippecanoe County Museum's Genealogy & Research Center, 1001 South Street, Lafayette, Indiana. There are a few Winter paintings owned by other museums, such as the Cass County Museum, Logansport, and even the Gene Autry Western Heritage Museum, Los Angeles, California.
Mrs. Cable (Evelyn) Ball, whose husband was the great-grandson of George Winter, rescued the paintings from a warehouse that was being torn down in 1933. Winter had gone to California in 1876 and then died shortly after returning to his home in Lafayette, Indiana. The paintings, sketches, journals and other papers sat stored in the family-owned warehouse for over 50 years. Cable Ball decided to have the old warehouse torn down. One morning Evelyn had a feeling she should go look. When she drove up to the warehouse, she looked up to a second-story window and saw a workman punching a painting out of a frame and throwing it into the truck below. She ran in and stopped them, and discovered the Winter collection stored in a forgotten room, whose door had been hidden behind piled up boxes and furniture. She and her husband took the materials to their home and sorted for the next few years. They loaned the paintings to be exhibited at the John Herron Art Museum, Indianapolis, in 1939.
The Indiana Historical Society published in 1948 a book: The Journals and Indian Paintings of George Winter 1837-1839. After Cable Ball died, Evelyn donated the collection to the Tippecanoe County Historical Association. In 1993 the Indiana Historical Society and TCHA published a second book: Indians and a Changing Frontier - The Art of George Winter.
In 2001 Kitty Dye, Port Clinton, Ohio, published a novelized biography of George Winter, and described how Evelyn rescued the paintings. Mrs. Dye published the book via her LeClere Publishing Company: Meet George Winter - Pioneer Artist, Journalist, Entrepreneur. (This book and the 1993 Indiana Historical Society Winter book are for sale on the Fulton County Historical Society web page at www.fultoncountyhistory.org.)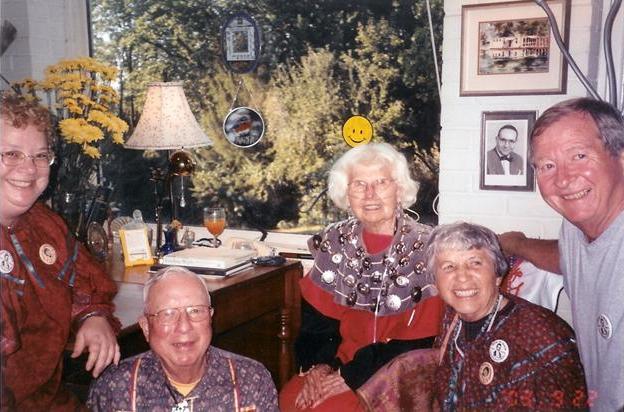 The 2003 Trail of Death Commemorative Caravan stopped to visit Mrs. Ball. Pictures above: Mrs. Cable G. (Evelyn) Ball, Lafayette, Indiana, is seated in the center, wearing an Ojibway dress. She died August 28, 2005. Pictured with her are the Pearl family of Citizen Potawatomi Nation: Janet Pearl, Bob Pearl, Sister Virginia Pearl, and Patrick Dockery, who were on the caravan. (Photo by Dolores Grizzell, Winamac, Indiana, on 2003 Trail of Death Caravan.)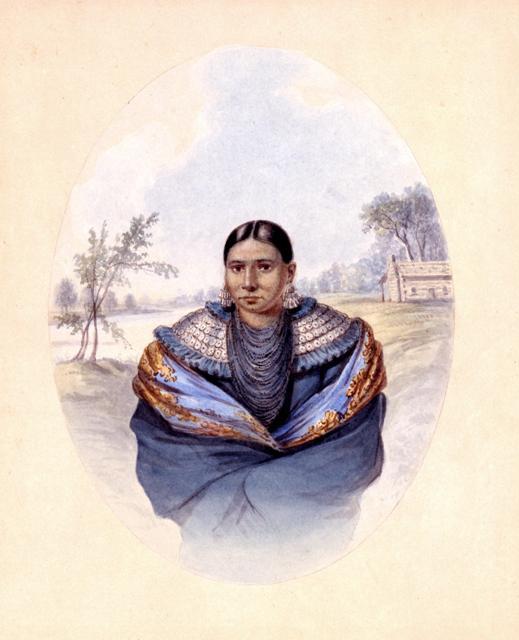 Mas-saw in Fulton County in 1837
George Winter lived in Logansport and painted the Potawatomi and Miami Indians in Cass, Miami and Fulton counties. Above is the picture of the Chieftess Mas-saw (also spelled Massah and Messah), great-grandmother of Jim Thorpe, who won the decathlon and pentathlon at the 1912 Olympics and was declared the World's Greatest Athlete. In 2000 he was voted the Greatest Athlete of the 20th Century.
Notice the log cabin behind Mas-saw and Lake Kee-waw-nay (now called Lake Bruce) in Fulton County. Mas-saw lived in this cabin and during the Treaty Council in July 1837, George Winter paid $1 a day to eat there and had a place to sleep on the floor in his own blanket. The treaty was held a short distance from the cabin. The cabin served as headquarters for Col. Abel C. Pepper, the Indian Agent, as he held the council to get the Potawatomi to sell their land and agree to go west. Pepper and other white men associated with the treaty stayed at Mas-saw's cabin too. It had two rooms downstairs and two rooms upstairs, a hall 9 feet wide, plus a kitchen in the rear where Doga did the cooking. Mas-saw was an excellent player of euchre and poker. During the treaty council she had a poker game going on upstairs and Winter reported that she raked in the winnings from men of experience. While there Winter sketched the Potawatomi at work and play (games of Wink, Moccasin, and Yuh-Youh-Tche-Chick) and a burial.
Winter described Mas-saw as wealthy and her clothing was expensive. She wore a cape with circular silver ornaments, several strings of small blue beads, and a belt- pendant with several chains and watch keys. Her petticoat or skirt was bordered with ribbons of the primary colors (red, yellow, blue and white), and an occasional row of a secondary color. These ribbons were about two inches wide, cut into points and vandykes - very neatly sewed. Her cloth blanket (shawl) too was bordered by ribbons and silver rings... Her blanket and petticoat were of good dark blue broad cloth. Her moccasins were neatly made and handsomely checkered on the laps with ribbons of the primitive colors. Red leggings completed the handsome costume. (Courtesy of Tippecanoe County Historical Assn., Lafayette, Indiana. Gift of Mrs. Cable G. Ball.)
The blue dress Shirley Willard wears in many of these pictures is a copy of Mas-saw's dress and the skirt is copied from Mas-saw's daughter Marie's dress. The dress and shawl were made by Elsie Turner, Rochester, an excellent seamstress. Many of the outfits worn at the Trail of Courage Living History Festival are copied from George Winter pictures. George Godfrey's outfit is copied from the red shirt worn by Kaw-kawk-kay.