Treaty Tree
Side trip - Treaty tree at Chippewanung Creek. The treaty that led to the forced removal in 1838 was signed in 1836 at Chippewa-nung Village a mile east up the river. The treaty tree is still standing in the woods on the Haimbaugh round barn farm on Indiana 25. To get there from the Trail of Death historical marker, go east on the first road south of the river and follow it (keep turning left) all the way to the highway, Indiana 25. Turn left (north) and turn in at the big red round barn. This is private property so you need to get permission to go back to the woods to see the Treaty Tree.
This sycamore tree was shaped by the Potawatomi to mark the signing of the 1836 treaty. A limb about 20 feet long was parallel to the ground. The limb eventually touched the ground and rotted and fell off. As a result, the tree, which is huge today, grew into the shape of an eagle.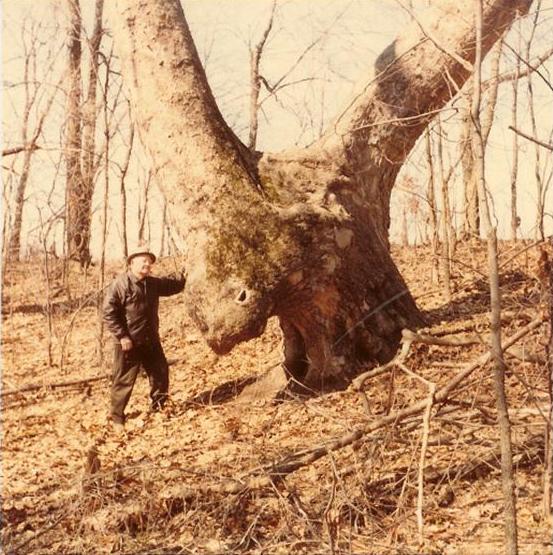 Rochester, Indiana - Treaty Tree on Chippewanung Creek.
Ervin Stuntz, Walkerton, Indiana, reaches out to touch the Treaty Tree on Chippewanung Creek 3 miles north of Rochester. This huge sycamore tree was a sapling when the 1836 treaty was signed here and the Potawatomi made it grow with a limb parallel to the ground for about 20 feet. That limb was still there in 1910 and the Haimbaugh children played on it until it finally touched the ground and rotted off. That is the part of the tree that seems to form an eagle above. John Haimbaugh moved his family to the farm in 1910 and had a round barn built in 1914. The tree was pointed out to Edith Haimbaugh Smiley by her grandfather Conrad Haimbaugh when she was a child as the place where the Indian treaty was signed in 1836. She said the legend was that the treaty would be honored as long as the tree lived. The tree trunk is over 6 feet across with a large limb rising up from its point of beginning 10 feet up the trunk. The trunk is now hollow but the tree still stands. (Reference: Fulton County Historical Society Quarterly no. 27, p. 21.) The Haimbaugh family still owns the farm and has a big reunion there by the Tippecanoe River the first two weeks of July every year. (Photo by Shirley Willard, 1978.)