Jim Thorpe
Greatest Athlete of the 20th Century
By Shirley Willard
King Gustav of Sweden at 1912 Olympics: "You, sir, are the greatest athlete in the world."
Jim Thorpe, Sac and Fox Indian: "Thanks, King."
Called "The American Natural" "the Greatest Athlete Who Ever Lived, and recently named the "Greatest Athlete of the 20th Century," Jim Thorpe was a Sac and Fox Indian, born in 1887 in a one-room log cabin at Prague, Oklahoma. Because he was an enrolled member of the Sac and Fox tribe, he is usually referred to as a Sac and Fox Indian, but he also had ancestors who were Potawatomi, Menominee and Kickapoo.
Did you ever imagine this outstanding man would have roots in Indiana, and that his ancestors were among the Potawatomi Indians driven out on the 1838 Trail of Death to Kansas? Thorpe's granddaughter, Dagmar Thorpe and her cousin, Susan Campbell, did genealogy research to document that his mother was a Potawatomi descendant of two families who were on the Trail of Death: Chesawgan, whose daughter Shanote married Louis Vieux; and Mas-Saw, a chieftess who had a log cabin at Lake Kee-wau-nay and sold room and board to George Winter when he came to sketch the Treaty of 1837. Mas-saw (also spelled Massa and Masseh) and her daughter Maurie, according to an account written by George Winter, were among the Potawatomi who were marched at gunpoint down Rochester's Main Street on Sept. 5, 1838, on the forced removal to Kansas. (Susan Campbell is also a descendant of Mas-saw and Che-shaw-gan.) Mas-saw's daughter Elizabeth Goslin married Louis Vieux's son, Jacob Vieux. Elizabeth's daughter Charlotte married Hiram Thorpe and gave birth to Jim Thorpe.
Che-shaw-gan and family are mentioned in the Trail of Death diary on Sept. 7, 1838, as being among a part of 18 persons who with their families, joined the march. Che-shaw-gan's daughter married Louis Vieux, whose granddaughter Charlotte married Hiram Thorpe. Thus Jim Thorpe had two direct ancestors and their families on the Trail of Death.
At that time when an Indian's mother was a member of one tribe and his father in another, he could be enrolled in both tribes. So Jim Thorpe was an enrolled as a member of the Sac and Fox, his father's tribe, and in the Citizen Band Potawatomi, his mother's tribe. His mother had land within both the Citizen Band and Sac and Fox nations. She was asked to relinquish one and in 1894 chose to retain her Sac and Fox land. She and her son Jim Thorpe remained on the Potawatomi census rolls through at least 1901. When he won the Olympics in 1912 at the age of 25, he was competing as a citizen of the Sac and Fox Nation. He did not receive dual citizenship as a citizen of the United States until 1916.
Thorpe was born in 1887 on a ranch in Oklahoma Territory and became an athlete by riding horses, roping cattle, hunting and fishing, running and jumping with his friends. His twin brother Charlie died at age nine, a loss that Jim felt all his life, saying that he carried Charlie's spirit with him and it contributed energy to his athletic ability. In the fall of 1898 at the age of 10, Jim arrived at Haskell Indian Junior College in Lawrence, Kansas. While at Haskell Jim first observed track and football. He idolized the great Haskell football player Chaucey Archiquette. Too little to play on the team, he organized games among his age group. Towards the end of Jim's second year at Haskell, his father was hurt in a hunting accident. Upset, Jim hopped a freight train home and then refused to return to school. His mother, Charlotte Vieux Thorpe, died in 1902. Jim wanted to stay home and work the ranch but his father insisted he get more schooling so Jim ran away several times. In 1904 his father sent him at age 16 to Carlisle Indian School in Pennsylvania, with no parental visits. While he was a student there, his father died and Jim was belatedly notified, too late to go to the funeral. Carlisle was a strict school that had as its goal to "kill the Indian and save the man." At Carlisle Jim developed his marvelous athletic ability, gained fame as an amateur athlete
Jim's team at Carlisle became legendary: a 1911 victory over mighty Harvard and 27-6 victory in 1912 over an Army team featuring halfback Dwight D. Eisenhower. Thorpe was extremely swift and noted for a running style that sometimes knocked opposing tacklers cold, which he developed as a kid chasing rabbits on the reservation in Oklahoma. Thorpe was named an All-American in 1911 and 1912 when he scored 25 touchdowns and 198 points. In between those two seasons he represented the U.S. in the Summer Olympics at Stockholm, Sweden. Competing in the pentathlon and decathlon (100 meters, broad jump, high jump, shot put, 400 meters, 110-meter hurdles, discus, javelin, pole vault, and 1,500 meters), Thorpe won two gold medals.
After the Olympics, Thorpe went back to Carlisle and played football for his final year in college. He was stripped of his Olympic records and medals in 1913 because he had received money for playing semi-pro baseball ($2 a game) in the summers of 1909-10. Other athletes did this too, but under pseudonyms so they did not get caught. The Olympic authorities decided to make an example of Thorpe. In recent years, the rules about playing for pay and the effect on amateur status have been changed.
While at Carlyle, Jim found his future bride, Iva Margaret Miller. They were married in 1913 and had four children: James Jr., Gail, Charlotte and Grace. Dagmar Thorpe is the daughter of Grace.
One of Grace's favorite memories of her father was when she was six years old and a student at Haskell Indian School, Lawrence, Kansas. "He'd promised me ice cream, but first he did an exhibition. He drop-kicked a football from the 50 yard line through the goal posts in one direction, then drop-kicked another 50-yarder in the opposite direction. Everybody went wild. Dad put me on his shoulders in the crowd. I kicked and kicked his chest and screamed for my ice-cream cone until he got me one."
Thorpe entered pro athletics and played baseball for the New York Giants, Cincinnati Reds, and Boston Braves for six years. Thorpe has another Hoosier connection. He was assistant football coach at Indiana University at Bloomington 1915. On Thanksgiving of 1915 he played in a football game at Pine Village, Indiana, a small town west of Lafayette that had a pro-football team. He was paid $250 for playing the game and did superbly, according to the Lafayette newspapers. His famous name brought in a crowd of 2,500 spectators. Later that year he was signed to play for the Canton (Ohio) Bulldogs for $250 per game. Thorpe then played professional football for 15 years with the Canton Bulldogs, which won world championships, and with the Oorang Indians (which he organized and coached as well as played in), Chicago Cardinals and others. He was one of the founders and the first president (1919-20) of the league that eventually became the National Football League. Finally Jim came to the end of his professional football career at the age of 42 in 1929.
Jim and Iva were divorced in 1923. He married Freeda Kirkpatrick in 1925 and they had four sons: Carl, William, Richard, and John. Freeda and Jim were divorced in 1941. During the Depression Jim had several different jobs such as speaking tours, as gatekeeper at Ford Motor Company, then in radio and eventually in movies. He had bit parts and then larger parts in the movies "She" and "The Green Light." He served in the Merchant Marines in 1945. He married Patricia Askew in 1945. He traveled to give speeches and kicking demonstrations at half times of games.
He filled his later years with work as a casting director in Hollywood helping to hire Indians to play parts in films, and with speaking engagements. He never received wealth as sports were not the big business they are today. The most money he made as an athlete was maybe $10,000 a year. In 1929 he sold his life story to the movies for $1,500 but when MGM actually made the movie in 1950, the company gave Jim $25,000 to serve as advisor. In 1950 he was voted "Athlete of the First Half of the Century" by sportswriters and broadcasters and "America's Greatest All Around Athlete" by Associated Press. Thorpe is the only American athlete ever to excel as an amateur and a professional in three major sports: track and field, football, and baseball
Jim had his second heart attack in 1952 while operating a night club in Las Vegas. He died March 28, 1953. President Eisenhower sent a telegram of condolence, as one who had played football with him many years ago.
A recovering alcoholic, Jim Thorpe died at age 66 in Lomita, California, where he lived in a trailer park. Controversy immediately started. The Oklahoma legislature appropriated $25,000 to build a Jim Thorpe memorial but it was vetoed by the governor. So his third wife contracted with the twin communities of Mauch Chunk and East Mauch Chunk, Pennsylvania, that they would consolidate and change the name to Jim Thorpe, Pennsylvania, and that they would build a suitable memorial. A mausoleum and a museum were built and a tourist attraction began, along with an annual run to honor and commemorate Jim Thorpe, World's Greatest Athlete.
Replicas of the Olympic gold medals were given to his family in 1982; his amateur status had been restored in 1976. His family donated the medals to the Oklahoma Historical Society in 1987, and the medals can be viewed in the State Capitol in Oklahoma City.
When Jim Thorpe were born on a May morning in 1887, his mother saw the sun making a bright path up to their cabin. He was named Wa-tho-huck or Bright Path into the Thunder Clan of the Sac and Fox tribe of his grandmother Notenoquah. His Christian name was James Francis Thorpe. From that humble beginning, he grew to become a man of many talents who was declared in 2000 to be the Greatest Athlete of the 20th Century. It is very appropriate that in the century called the American Century, the Greatest was an American Indian.
Thorpe's picture appeared on a Wheaties box in 2001. Today the Jim Thorpe Association is working to continue the legacy of Jim Thorpe by presenting the annual Jim Thorpe Award for the best Defensive Back in College Football and by building a Jim Thorpe museum in Oklahoma City. They published a pictorial history in 2002: Jim Thorpe - Athlete of the Century.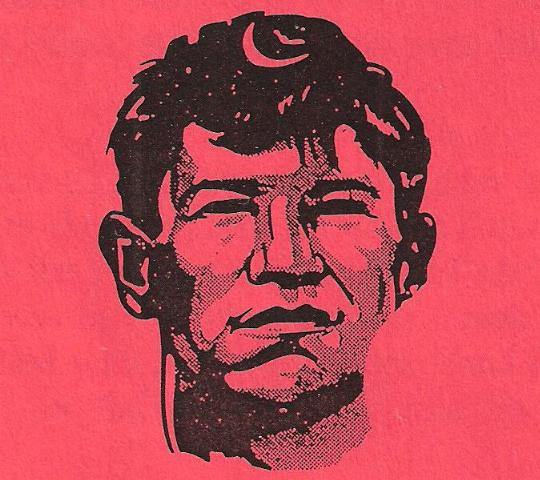 Jim Thorpe thanks to Harts Sports Center, Tahlequah, OK.
Descendants of Mas-saw and Jim Thorpe were honored at the Trail of Courage Living History Festival in 2003. Shirley Willard's blue Potawatomi dress is patterned after the one worn by Mas-saw in the George Winter book. The dress was made by Elsie Wharton Turner, an excellent Rochester seamstress in 1993 especially for Shirley. Shirley chose to portray Mas-saw because her initials are S.A.W. for Shirley Ann Willard. At the end of the 2003 Trail of Death Commemorative Caravan, Shirley and her husband Bill Willard were adopted by the Potawatomi families on the caravan with a special ceremony at St. Philippine Duchesne Memorial Park at Sugar Creek, Kansas. This was the idea of Tom Hamilton and Sister Virginia Pearl. Tom made the adoption certificate on his computer and got all the Potawatomi on the caravan to sign it. "It is the greatest honor of my life," stated Shirley.