Osawatomie, Kansas
After leaving Paola on South Silver Street, which is the Old Kansas City Road - follow it until you come to W. 327th Street and turn west (right). Go on W. 327th Street for about 3 miles, as it becomes Kansas City Road again, which takes you straight into Osawatomie. The Trail of Death marker is in front of the Old Land Office on N. 6th Street (same as Old Kansas City Road). Railroad tracks are to your right (west).
Sunday 4th Nov. [Traveled 20 miles from Bulltown (now Paola) to Osawatomie, Kansas.]
Left Bull-town encampment this morning at 9 o'clock, two hours having been allowed the Indians for devotional purposes. At 2 we crossed the Osage River where the Indians were met and welcomed by many of their friends, and at half after 3 reached Pottawattomie Creek, the end of our destination. The emigrants seemed delighted with the appearance of things - the country - its advantages - the wide spreading prairie and the thrifty grove, the rocky eminence and the meadowed valley - but particularly with the warm and hearty greetings of those who have tested (and but to become attached to) the country assigned them by government. The evening was spent in preparing for some settlements of tomorrow. Mr. Davis, the Indian agent, we found absent.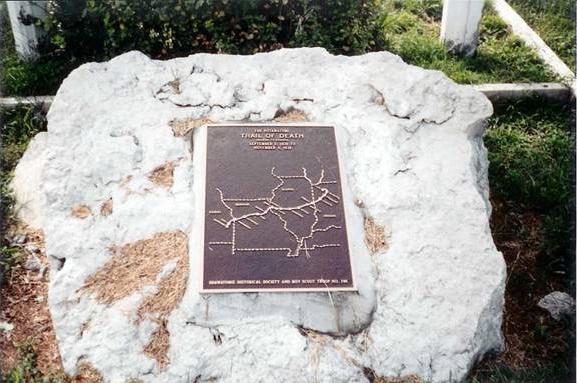 Osawatomie, Kansas - Old Land Office. GPS N-3830062 W-9457088.
Located in front of Old Land Office on north 6th Street, erected 1995 by Osawatomie Historical Society and Ron Morris, Boy Scout. Marilyn Mullins headed the project committee. (Photo by Larry Prichard, Lynn, Indiana, on Trail of Death Commemorative Caravan, 2003.)