James Pecan Farm
Monday, 22nd Oct. [Traveled 15 miles from Keytesville to Grand River at Brunswick, Missouri.]
At an early hour this morning we left our encampment, and passing through Keatsville, journeyed towards the Missouri River. (Continued on next page)
On the way the emigrating Potawatomi passed pecan farms and probably picked up nuts to eat on the way in 1838. The James Pecan Farm is on the north side of US 24 about 12 miles west of Keytesville. It is a half mile west of county road 213. The James Pecan Farm has a concrete "world's largest pecan" and a store with pecans, candy, crafts and souvenirs. They also have a room that they call a museum as it shows the Trail of Death and the Lewis & Clark Trail.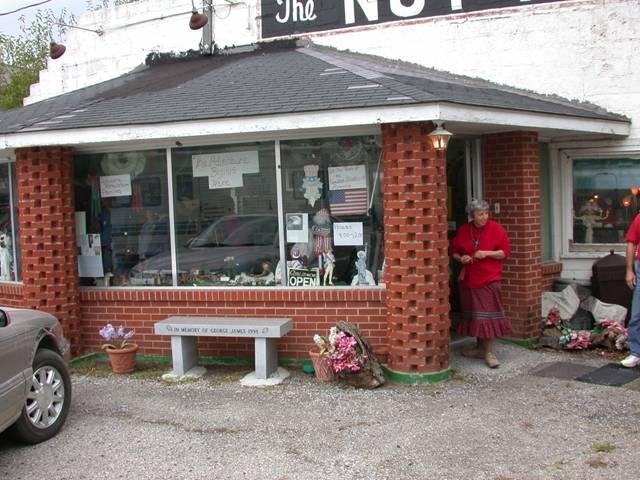 Brunswick, Missouri - James Pecan Farm, The Nut Hut. GPS N-3924761 W-9304088.
The James family has a museum in their shop in which they display pictures of the Trail of Death caravan members. Pictured above: Sister Virginia Pearl at the door. (Photo by Larry Prichard, Lynn, Indiana, on Trail of Death Commemorative Caravan, 2003.)
Leave the James Pecan Farm by continuing west on US 24. This is also the Lewis & Clark Trail as it follows the Missouri River. Continue on 24 to Brunswick.