Marion County, Missouri
Palmyra -- Pleasant Spring
After MO24 turns south, go about 5 miles to County Road 320. Turn west (right) on 320 and immediately turn south (left) on 361. The marker is on the west (right) side of county gravel road. It has a wooden HISTORICAL SITE sign to help call attention to the boulder with metal plaque. Cows often line up along the fence to watch you as you stop to look at the marker.
Thursday 11th Oct. [Traveled 13 miles from West Quincy to Pleasant Spring near Palmyra, Missouri.]
At 9 o'clock the emigration moved from the encampment of the last 2 days. The rest of yesterday and the day before had much recruited the health and spirits of the Indians. The march was pleasant and without the occurrences of any difficulties. We are encamped at Pleasant Spring, near Palmyra, Mo. Capt. J. Holman of Peru, Ia. [Ia. is old abbreviation for Indiana] arrived in camp today. He serves in the capacity of Assistant Superintendent, having received his appointment at the suggestion of reports unfavorable to the health of the officers attached to the emigration. A woman died shortly after we encamped today. An ox wagon engaged in the transportation of Indians, having lost is cattle was forced to remain behind with its load. The wagon along with those left to hunt the oxen will be up tomorrow.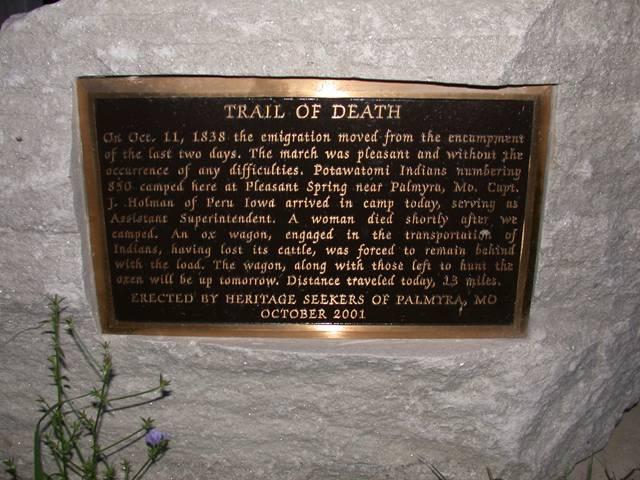 Palmyra, Missouri - Pleasant Spring. GPS N-3950695 W-9131535.
Located 3 miles north of Palmyra on US61 and county road 320. Erected in 2001 by Heritage Seekers of Palmyra, Missouri, with assistance and donation from Clifford Gander. Correction: Captain Holman was from Peru, Indiana, not Iowa. The old abbreviation for Indiana was Ia. (Photo by Larry Prichard, Lynn, Indiana, on Trail of Death Commemorative Caravan, 2003.)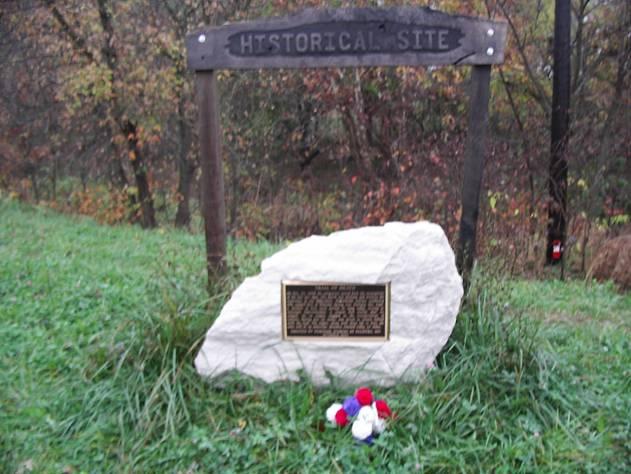 Palmyra, Missouri - Pleasant Spring. GPS N-3950695 W-9131535.
Clifford Gander donated money for the marker and for the wooden Historical Site sign above it. He is a member of the Heritage Seekers of Palmyra, Missouri. (Photo by Bill Willard, 2004)
Continue south on county road 361 - it turns east (right) to rejoin MO24. Turn south (right) onto 24 and go about two miles into Palmyra. Turn west (left) onto E Main Cross Street. Star Hardee's restaurant is on the north (right) side of the street. The Trail of Death marker is outside Hardee's door beside the building and a picnic table.