Trail of Courage Living History Festival
Rochester, Indiana
In 1976 as a Bicentennial project, members of the Fulton County Historical Society conceived of a special event to honor the Potawatomi Indians who had been the original inhabitants of northern Indiana but had been forcibly removed to Kansas in 1838, an event that became known as the Trail of Death. They called that first event the Trail of Death Rendezvous. Allen Willard, son of Bill and Shirley Willard, earned his Eagle award by leading his local Boy Scout troop to erect a historical marker at the second night's camp site on that removal, where the first death occurred. In 1977 the name of the event was changed to Trail of Courage in order to focus on life before the removal when this was still Potawatomi territory. Allen joined the Order of the Arrow and performed the buffalo dance and other Indian dances at the Trail of Courage for the next few years.
The first year, 1976, the event was held in a soybean field owned by Clyde and Opal Neff, because the field was located on the Trail of Death route and was close to the camp site of the second night on the journey west, where the first death occurred. It was on Indiana 25 about 6 miles south of Rochester. The next year the event was moved to the Tippecanoe River to a pine woods owned by Bob Kern, which was located on Olson Road between Old 31 and New US 31, about 2 miles north of Rochester. The Trail of Courage was held in the pine woods for 9 years, and grew to be a major festival. Thanks to the generosity of Bob Kern, who never charged rent, FCHS was able to save money to purchase land for a permanent home for the Trail of Courage and a site for a museum.
In 1985 FCHS paid $30,000 cash for 35 acres on New US 31 and the north side of the Tippecanoe River, which is cattycorner from Kern's pine woods. The wooden booths were moved by volunteers, who worked all summer getting the woods ready. The tamarack log cabin was moved too. In this deciduous woods the rendezvous flourished and grew, increasing also in authenticity and historical accuracy.
Today the Trail of Courage is a big festival attracting 12,000 to 18,000 annually. It has historic camps set up by re-enactors in these areas: French & Indian War, Voyageurs canoe camps, Revolutionary War, War of 1812, Western Fur Trade, Plains Indian teepees, and Woodland Indian wigwams. There is also a re-creation of Chippeway, Indiana, the first white settlement in Fulton County, of which William Polke was the postmaster in 1832. Over 35 wooden booths house demonstrations and vendors of crafts, foods, plus educational displays. Several log cabins have been constructed. Canoe rides are offered on the Tippecanoe River. All foods are cooked over wood fires: buffalo burgers, ham & beans, fish and chips, vegetable soup, venison stew, barbecue, corn on the cob, apple sausage, turkey legs, and popcorn. For the sweet tooth there are apple dumplings, fudge, cookies, and ice cream. Even the drinks are historic: cider, coffee, sassafras tea, iced tea, homemade root beer, etc. No coke allowed! Everything is pre-1840 to portray frontier Indiana. There are two stages with music and dance from 10 a.m. to 5 p.m. Indian dances are held from 2 to 3:30 p.m. in the Indian dance arena, outlined by teepees. Crafts include spinning wheel, basketry, flintknapping, fingerweaving of Indian sashes, weaving of rugs, pewter casting, blacksmithing, tin-smithing, rope making, bow making, and much more. Competitions for muzzle loading shooters, tomahawk throws and other sports are held.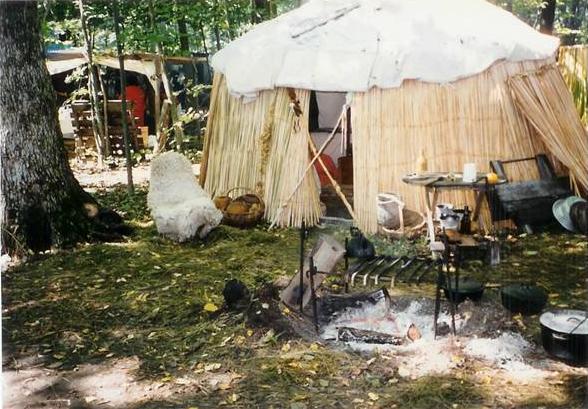 Woodland Indian wigwam village erected every year by members of the Miami Indians of Indians at the Trail of Courage Living History Festival. Miami who come to erect the wigwam village are led by Harry and Carolyn (Mongosa) Knauff, Denver, Indiana. (Photo by Norma Dean, Lake Worth, Florida, member of the Bourassa family in Citizen Potawatomi Nation, in 1996.)
At the north end of the grounds are the Fulton County Museum, built in 1987, the Round Barn Museum, moved and restored in 1990, and Loyal, Indiana - a Living History Village of 12 old buildings portraying 1900-1925. The William Polke house /stagecoach inn, built in 1832 and moved in 1993, is in this village. Also an 1876 depot, 160 feet of railroad track, a caboose and a boxcar, a rail car and its shed. Other buildings include an 1860s log cabin, blacksmith shop, print shop, 1912 Kewanna jail, Athens cider mill, a round brooder house, doctor /dentist office, and 1920s general store. Tractors pull trams to provide free transportation from the museum to the festival at the south end of the grounds next to the river.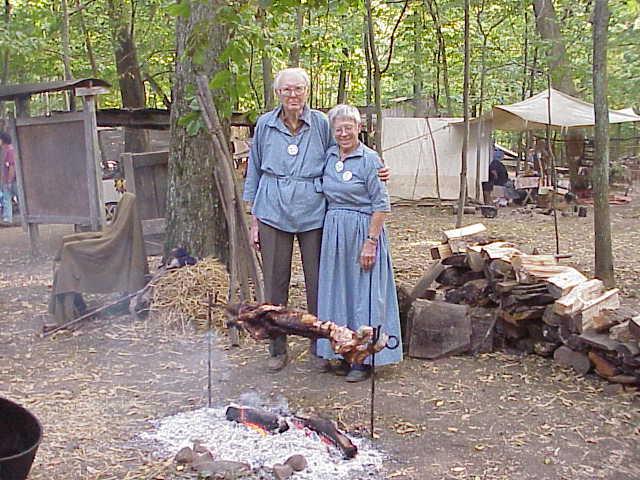 Bill and Lois Baldwin, Rochester, Indiana, demonstrate making lye soap in a big iron kettle at the Trail of Courage Living History Festival. They also cook over a campfire, as above. Although Bill died in 2001, Lois and her children and grandchildren continue to operate the booth. (Photo by Sharon Whitmore in 1999.)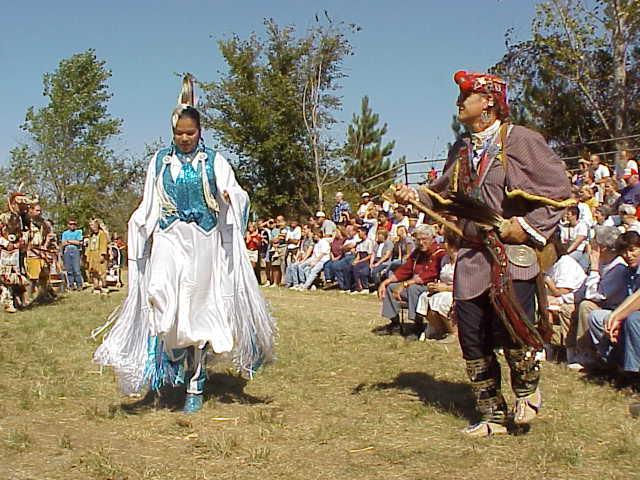 Head Woman and Head Man Dancers at the annual Trail of Courage Living History Festival. Samaydi Navarro, Arlington Heights, Illinois, and Russell "Rusty" Whitmore, then living in California but now back home again in Indiana, were head dancers in 1999. Rusty is the son of Phyllis Whitmore, the storyteller, who lives at Nyona Lake, Fulton County, Indiana. (Photo by Sharon Whitmore, Rusty's wife.)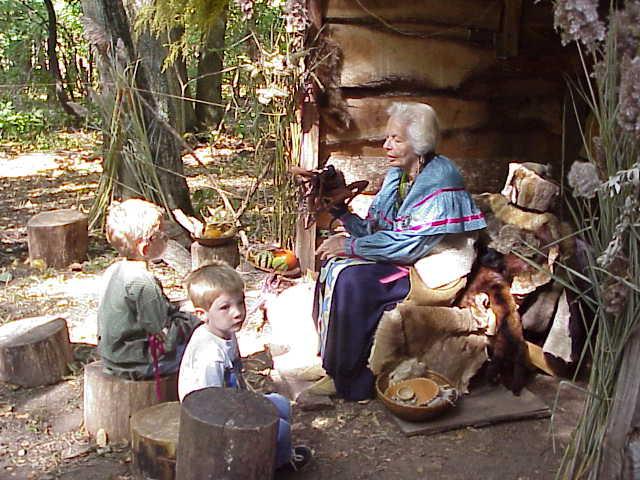 Phyllis Whitmore, Nyona Lake in Fulton County, tells Woodland Indian stories at the annual Trail of Courage Living History Festival. She made her booth, decorations and Indian dress. She uses props such as furs and turtle shell to illustrate her stories. (Photo by Sharon Whitmore in 1999.)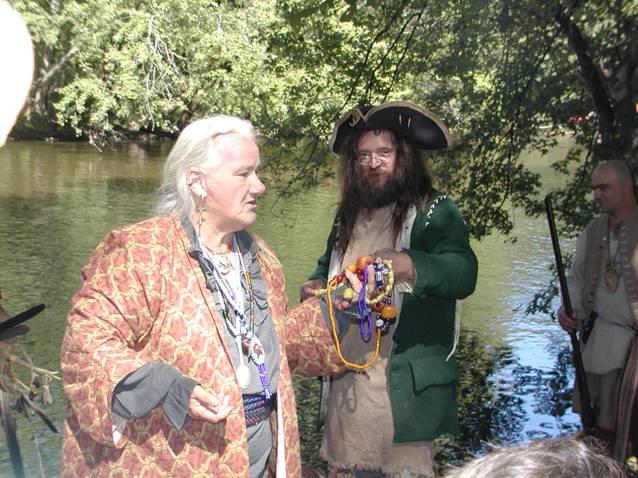 Bernadine "She Who Rides the Bear" Goff, North Judson, Indiana, a Potawatomi woman, accepts beads from Adrian Vaccaro, Montpelier, Ohio, in the fur trade skit at the Trail of Courage, 2003. Vacarro and other traders come in canoes and bring trade goods to trade for furs, re-enacting what really happened in the 1830s on the Tippecanoe River. Bernadine died in 2006, but the fur trade skit continues every year at the Trail of Courage. (Photo by Al Blankenship.)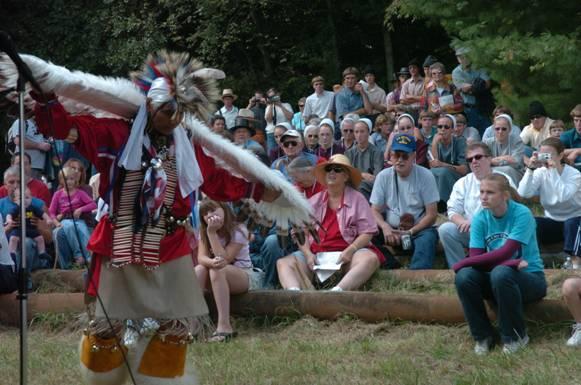 Rudy Vallejo, member of Kickapoo and Prairie Band Potawatomi, performs the Eagle Dance in the Hillside Amphitheater at the 2005 Trail of Courage. He is a descendant of Chief Shipshewano, who was on the 1838 Trail of Death from Indiana to Kansas. Each year the Trail of Courage honors a different Potawatomi family that had ancestors on the Trail of Death or signed treaties in Indiana. (Photo by Mike Kenny, Rochester Sentinel.)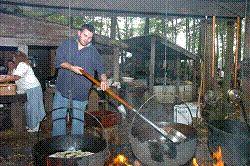 Fish and chips are being fried in big kettles at this food booth at the 2005 Trail of Courage Living History Festival. The booths are made from old barn boards or slab wood. All foods are cooked over wood fires. Delicious! Pictured is Jason Clinger with long-handled dipper/ strainer. (Photo by Mike Kenny, Rochester Sentinel.)
Since 1976 the Trail of Courage has grown in attendance and authenticity. It is so historically-accurate that many teachers give students extra credit if they attend. Local schools are involved in several ways. Fourth graders of Riddle Elementary School, Rochester, learn pioneer dances to perform on Sunday at the Trail of Courage. Fourth graders of Akron Elementary School, Akron, Indiana, perform a drama about the Trail of Death in the Hillside Amphitheater, directed by teacher Bernadean Howard.
By reaching out to teach the youth about what really happened and to encourage them to think in kind and humane ways, the Trail of Courage not only teaches history but also good will. It is our hope that all who attend will come away with a greater appreciation of history and of the American Indians, as well as a deeper understanding of the contributions made by the other ethnic groups portrayed there.
For more information or to get the participant application form for the Trail of Courage Living History Festival, see www.fultoncountyhistory.org or call 574-223-4436. The Fulton County Museum is open Monday - Saturday from 9 a.m. to 5 p.m., closed holidays. The address is Fulton County Hist. Soc., 37 E 375 N, Rochester IN 46975.