Potawatomi Trail of Death
What was it? The Potawatomi Trail of Death was the forced removal of the Potawatomi Indians from north central Indiana to eastern Kansas in the fall of 1838. It was a year of terrible drought and water was scarce. What water they found was stagnant and made them sick, a fever believed to be typhoid. Of the 859 Potawatomi who started, 41 died along the way and were buried in unmarked graves. Father Benjamin Petit traveled with them and helped all he could. His letters and baptismal records, and other primary sources such as muster rolls, were published in a new book in 2003, Potawatomi Trail of Death, by Shirley Willard and Susan Campbell, and the Fulton County Historical Society's Indian Awareness Center, Rochester, Indiana.
What is it today? In 1988 for the 150th anniversary a group of historians and Potawatomi with ancestors on the Trail of Death began to commemorate this sad event and bring it out in the open instead of being swept under the rug of history. They contacted all 26 counties on the Trail of Death, and organized and traveled as a Trail of Death Commemorative Caravan in 1988, 1993, 1998, and 2003. They got the Trail of Death declared a Regional Historic Trail by getting resolutions passed by the four state legislatures: Indiana, Illinois, Missouri, and Kansas. Their goal was to place a historical marker at each camp site every 15 to 20 miles. They reached the goal in 2003. The Trail of Death Regional Historic Trail now has 76 historical markers.
What will it become? We visualize the Potawatomi Trail of Death becoming a catalyst for renewal, a spiritual journey for American Indians and non-Indians who wish to travel its route and share in the feelings, reaching out to understand and appreciate the culture and value of the first Americans. This event, called the Hoosier Holocaust, took a terrible toll on the elders and the babies, who died and were buried in unmarked graves along the trail. This trek can be a handhold in climbing the wall of human enlightenment. It can help prevent anything like this from happening again. It can help the public to realize what was done to the American Indians, what the true history is.
There is an old saying, "Don't judge another until you have walked a mile in his moccasins." The Trail of Death Regional Historic Trail offers you the opportunity to walk a mile or many miles, or ride a bike, a car, a truck and camper, or a motorhome from Indiana to Kansas for the full experience. As you travel, please take the time to say a prayer by each Trail of Death historical marker for world peace, that mankind will finally stop hurting himself and others and will accept all others, even the wild things, as brothers and sisters. We are all on planet Earth together and we should help each other.
This is the way from Chief Menominee's statue south of Plymouth, Indiana, to the St. Philippine Duchesne Memorial Park south of Osawatomie, Kansas.
May God or the Great Spirit or Creator (whichever name you prefer, in whatever religion you prefer) bless your footsteps along the Potawatomi Trail of Death. May you find peace and understanding, love and forgiveness for your fellow man.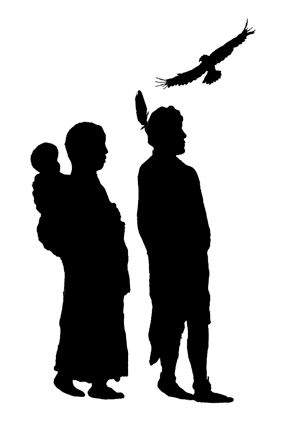 Logo by David Anderson, Seattle, Washington, member of Citizen Potawatomi Nation.

He can be reached at This logo will be used on metal highway signs to mark the route taken by the Potawatomi in 1838 from Indiana to Kansas. The highway signs will be 24x30" and similar to the Lewis & Clark Trail signs. The first signs will be erected in September in Fulton County, Indiana.