William Polke Trading Post
By Shirley Willard, Fulton County Historian
Fulton County Girl Scouts Troop 43611 and Fulton County Historical Society will erect a historical marker for William Polke's Trading Post on the Tippecanoe River and Michigan Road (Old 31) two miles north of Rochester. The Scout leaders are Tracy Risner and Ellen Boardman, Rochester. This marker will be dedicated Oct. 5, 2016, at 5:30 p.m. Oct. 5 is the day the Indiana Bicentennial Torch will be carried through Fulton County.
Polke was taken by the Indians when he was seven years old and learned their language. As an adult he was a missionary to the Potawatomi with his brother-in-law, Rev. Isaac McCoy at Niles, Mich. In 1816 William Polke was a member of the convention that wrote Indiana's first state constitution. Other historical markers tell about this, but none tells about the trading post on the Tippecanoe River.
Polke was Fulton County's first white settler, coming in 1830 to survey the Michigan Road, which is Rochester's Main Street. He built the county's first frame house in 1832, and this house/ stagecoach inn was moved to the Fulton County Historical Society grounds in 1993. A stagecoach line ran from South Bend to Indianapolis.
Polke was known to be a friend to the Indians and was appointed the federal conductor on the 1838 forced removal, replacing Gen. John Tipton, who was appointed by Indiana Governor David Wallace. The Potawatomi camped for the night along the Michigan Road from the Tippecanoe River to Polke's stagecoach inn a mile north of the river. There were about 300 campfires. The next day, Sep. 5, 1838, the Indians were marched at gunpoint down Rochester's Main Street. They camped that night at Mud Creek on S.R. 25 where the first death occurred, a baby. Boy Scouts erected a marker there in 1976.
Tipton turned the removal over to Polke at Danville, Ill. Father Benjamin Petit caught up with the Potawatomi at Danville, Ill., and cared for the sick and dying. Forty-two died on the 660 mile trip to Kansas, hence it went down in history as the Trail of Death. Polke and Petit did the best they could, not having modern medicine. It was typhoid, and the white people were dying in the villages they passed through. The year 1888 was a year of terrible drought so water was scarce. What water they found was stagnant. If they had just known to boil the water, there would not have been so many children that died.
Polke's trading post was a double log cabin on the south side of Tippecanoe River, east side of Michigan Road (Old 31). In 1832 Polke established Fulton County's first post office in this trading post and he was our first post master. The post office and village was named Chippeway. Sometimes it was spelled Chippewa but letters signed by Polke's daughter Mary have it spelled Chippeway. That is probably how they pronounced it.
The Trail of Courage has a replica Chippeway post office which offers post cards and commemorative postal folders with history of the honored Potawatomi family each year. Visitors can write post cards and mail them there during the two-day event, Sep. 17-18, 2016.
To help with this historical marker, send check to FCHS, 37 E 375 N, Rochester IN 46975 and note it is for the Polke trading post marker. This marker will be dedicated Oct. 5, 2016, at 5:30 p.m. That is the day that the Bicentennial Torch will go through Fulton County.
The Girl Scouts will cook and serve a pancake and sausage breakfast Aug. 27 from 7 to 10 a.m. at the Fulton County Museum for a free will donation. The metal plaque will cost $680. The boulder will be donated by Rex and Joan Bowen, who have lots of huge rocks on their farm. The huge boulder at the Tippecanoe River and Old 31 erected by Manitou Chapter Daughters of the American Revolution in 1925, was hauled from Bowen's farm, pulled by five horses.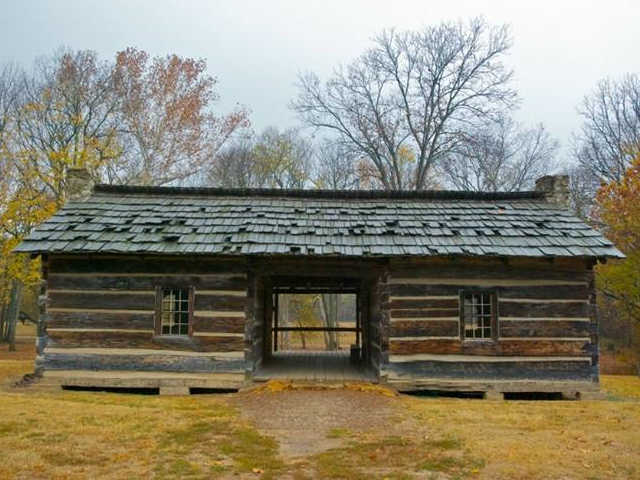 This double log cabin, like the one William Polke built north of Rochester at the Tippecanoe River, is a replica at New Harmony, Indiana. The cabin is resting on rocks to keep it above possible flooding.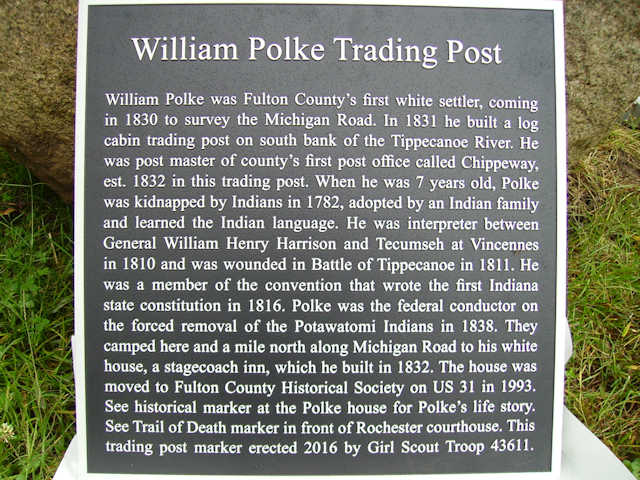 This new historical marker on a huge boulder for William Polke Trading Post at the Tippecanoe River and Michigan Road (Old 31) north of Rochester was dedicated Oct 5, 2016.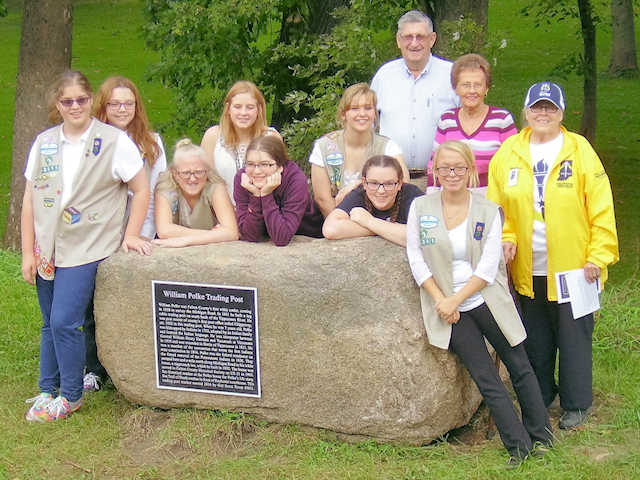 Girl Scout Troop 43611 gather around the boulder and cast aluminum plaque commemorating William Polke trading Post on Old 31 (aka Michigan Road) on the Tippecanoe River's south bank. From left: Sarah McIntosh, Bridget Holloway, Charla Milner, Dianna VanLue, Autumn Schaeffner, Shelbie Risner, Abby Cox, Katlyn Cox, Rex and Joan Bowen, Shirley Willard -Fulton County Historian. The Bowens donated the boulder from their farm in Richland Township, Fulton County, for the historical marker. (Photo: Oct 5, 2016, by Bill Willard)