Sangamon County, Illinois
East of Springfield
Enter Sangamon County from the east on I-72 (US 36) and take exit 108 to get off I-72. Turn south onto CR 7 E (Overpass Rd.) and go about a mile. Turn west (right) on CR 1 AN. Follow CR 1 AN and cross Coal Bank Bridge. You will go under I-72 on CR I (also named Oak Crest Road). The Trail of Death marker will be on your right on the north side of Oak Crest Road near a golf course.
Because of the tornado in March 2006, 2 bridges are out, which requires using an alternate route. Come on I-72 to Exit 104, and turn west (left). From the exit it is 1.4 miles east on Old 36 to Oak Crest Road. Turn right on Oak Crest Road and go 0.4 miles to the marker on the left.
Friday 28th Sept. [Traveled 18 miles from Niantic to east side of Springfield, Illinois.]
Left Long Point at little before 8 and crossed the prairies intervening. At 2 o'clock we reached the Sangamon River (on the banks of which we have encamped for the last 5 days) and after crossing the river we pitched our tents. We are now within a few miles of Springfield, which place we shall pass through tomorrow. Judge Polke, the conductor, on the occasion of passing through a village of the character of Springfield, requested I-o-weh, one of the principal chiefs, so to arrange and accouter the Indians as to insure a good appearance. The chief was delighted with the proposition and no doubt the emigration tomorrow will present quite a gaudy appearance. As an inducement they were promised some tobacco which they have been much in want of for several days. The day has been very warm, which added to the length of our march, fatigued much the emigrants. The illness of the camp is disappearing gradually, and we may safely calculate upon a great diminution in the number of sick at the next report of the physician. Forage and provisions becoming plentiful as we nearer approach the settled portions of the state. 2 children died during the night.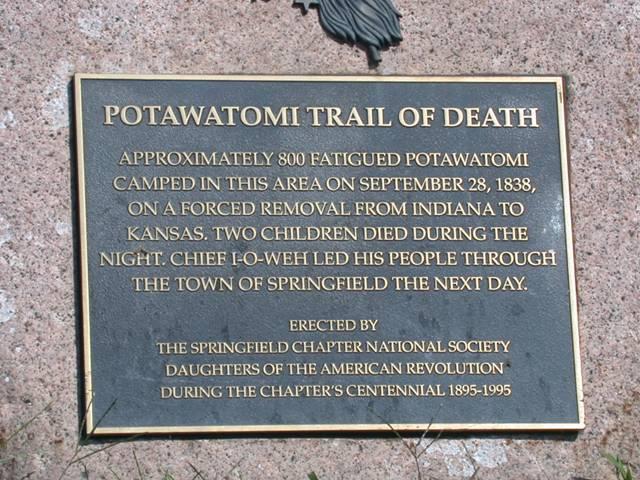 East of Springfield, Illinois - GPS N-3949344 W-8933180.
Located at 5319 Oak Crest Road, across from the golf course. Erected in 1995 by Springfield Chapter of National Society of Daughters of American Revolution, spearheaded by Wauline Quick, Springfield. (Photo by Larry Prichard, Lynn, Indiana, on Trail of Death Commemorative Caravan, 2003.)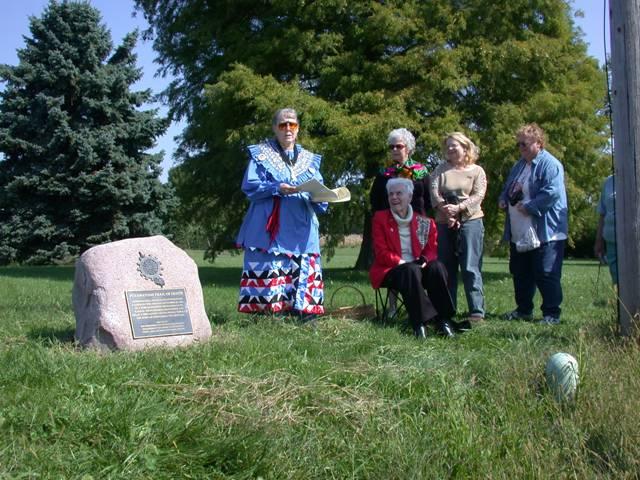 East of Springfield, Illinois - GPS N-3949344 W-8933180.
Pictured above, from left: Shirley Willard and Springfield DAR members Shirley Tick (seated), Jean Metcalf and Wauline Quick. At right is Janet Pearl - Citizen Potawatomi Nation, member of the caravan. (Photo by Larry Prichard, Lynn, Indiana, on Trail of Death Commemorative Caravan, 2003.)