Old Capitol Building
To get to the next Trail of Death marker, go to Springfield's Old Capitol plaza. Go west on Oak Crest Road a half mile and turn southwest (left) on to Old Route 36. Follow Old 36 and merge unto I72 (also known as new 36), which crosses over highway 55 and becomes E. Clear Lake Ave. as it enters Springfield. E. Clear Lake Ave. is also known as 97 and after it passes Bergen Park, it becomes 29 or East Jefferson Street. Turn south (right) on N. 5th Street. Go one block and cross Washington Street, which is one side of the Old Capitol Plaza. The next street is Adams Street.
Parking is provided on the north and west sides of the Old Capitol. Park as close as you can and walk east on Adams Street - it is closed to traffic. The Trail of Death marker is on the east side of the kiosk in the middle of the street. The kiosk provides a stairway down to the parking garage under the street. There are 17 other historical markers on the outer brick walls of the kiosk. Statues of Abraham Lincoln, his wife Mary and two sons are located near. Restaurants line the south side of the street so this is a good place to eat.
Saturday 29th Sept. [March through Springfield, Illinois.]
[Continued from the previous entry] In order to pass Springfield at as early an hour as possible, we rose before light and at 8 o'clock were on our way. The Indians amongst whom a degree of pride was excited, arranged themselves into line, and with an unusual display of finery and gaudy trumpery marched through the streets of Springfield. The wayfares were covered with anxious spectators, so mush so indeed as to threaten for a time to impede the progress of the Emigration. We passed clearly through, however, and that too without the detention of a single Indian.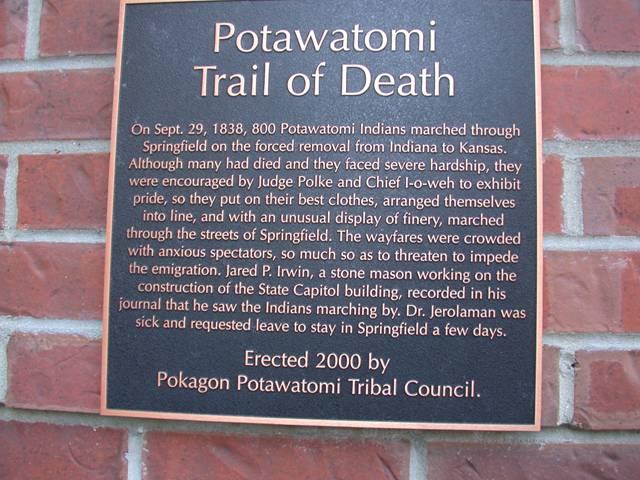 Springfield, Illinois - Old Capitol Plaza. GPS N-3948033 W-8938909.
Located on east wall of brick building called a kiosk that covers entrance to underground parking garage. This is in Old Capitol Plaza, between 5th and 6th streets, Adams and Washington streets. Commemorates that Jared P. Irwin, a stone mason working on the construction of the new state capitol building recorded in his journal that he saw the Indians marching by. This capitol is now known as the Old Capitol because a new one was built in 1877. This plaque erected in 2000, sponsored by Tribal Council of Pokagon Band Potawatomi, Dowagiac, Michigan. (Photo by Larry Prichard, Lynn, Indiana, on Trail of Death Commemorative Caravan, 2003.)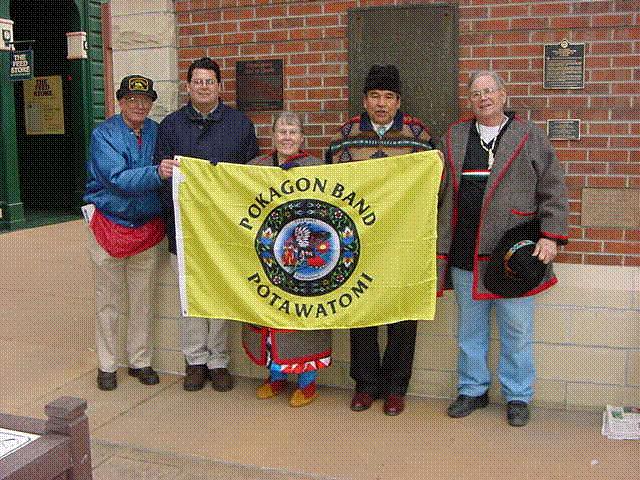 Springfield, Illinois - Old Capitol Plaza. GPS N-3948033 W-8938909.
Pictured above: April 5, 2000 at dedication, from left: George Wesselhoft, Lowell Indiana, member of Citizen Potawatomi Nation; John Miller, Dowagiac, Michigan, chairman of Pokagon Band Potawatomi; Shirley Willard, president of Fulton County Historical Society, Rochester, Indiana; Clarence White, South Bend, Indiana, Pokagon elder; Bill Willard, Rochester, Indiana. The Trail of Death plaque is on the brick wall of kiosk, behind them, above Shirley's head. The kiosk has 17 other historical markers on its walls. (Photo provided by Bill and Shirley Willard)
Leave the Old Capitol by going south on 5th Street for half a block and turn west (right) on W. Adams Street (a one-way street going west). Go west 8 blocks and turn south (left) on N. Lewis Street; go one block and turn west (left) on W. Monroe Street. Follow Monroe about 15 blocks and continue as it angles southwest and meets Old Jacksonville Road. Go on Old Jacksonville Road - this takes you to Riddle Hill where the Old Salem United Methodist Church is located on the south side of the road.