Morgan County, Illinois
Jacksonville, Illinois
At the edge of Jacksonville, the Old State Road meets E. State Street but do not enter E. State Street but go instead southwest on the Old State Road and turn left on East College Avenue (actually Old State Road becomes East College Avenue). The first street you come to is Johnson Street, which forms the west boundary of Foreman Grove, a Jacksonville park. The Trail of Death marker is on the corner of Johnson and College streets. The plaque is on the east side of the boulder and cannot be seen until you walk around the boulder.
Monday 1st Oct. [Traveled 17 miles from Island Grove to Jacksonville, Illinois.]
Early in the morning we left Island Grove - traveled over a dry prairie country, 17 miles, we reached our encampment near Jacksonville at 3 o'clock in the afternoon. Nothing occurred during our march except a child fell from a wagon and was much crushed by the wheels running over it. It is thought the child will die. Tonight some of the chiefs reported 2 runaways who left this morning. During the evening we were much perplexed by the curiosity of visitors, to many of who the sight of an emigration or body of Indians is as great a rarity as a traveling caravan of wild animals. Late at night the camp was complimented by serenade from Jacksonville Band.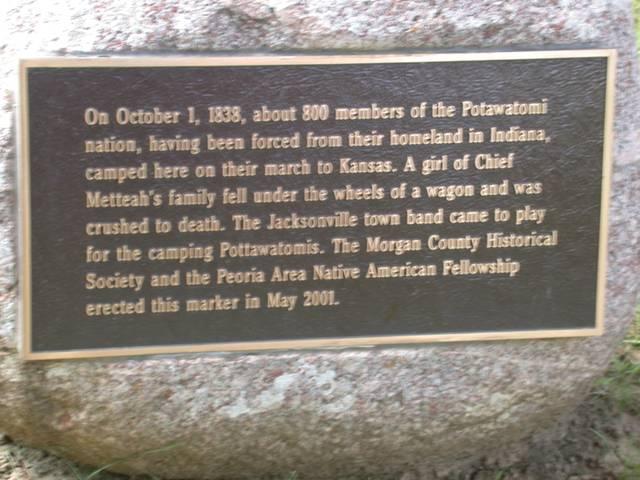 Jacksonville, Illinois - Foreman Grove Park. GPS N-3943930 W-9012607.
This is near the place where the Potawatomi camped the night of Oct. 1, 1838. Located in Foreman Grove Park, on corner of East College Avenue and Johnson Street. Erected 2001 by Native American Fellowship Council and Bill Norval, Peoria, Illinois and Morgan County Historical Society, Jacksonville, Illinois. (Photo by Larry Prichard, Lynn, Indiana, on Trail of Death Commemorative Caravan, 2003.)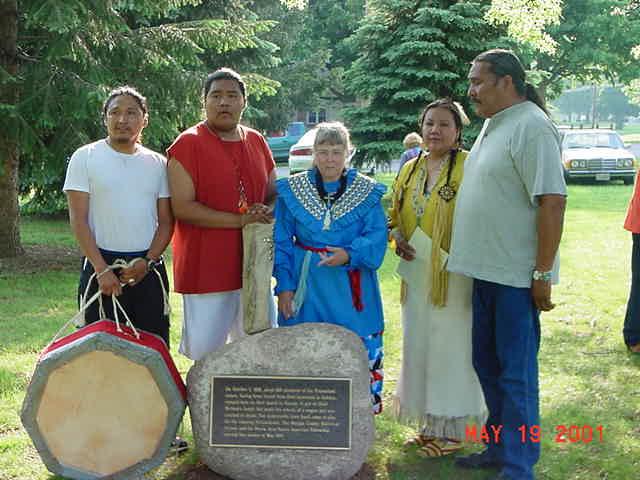 Jacksonville, Illinois - Foreman Grove Park at east edge of Jacksonville. GPS N-3943930 W-9012607.
Pictured above: Dedication May 19, 2001, from right: Badger Wahwasuck, at that time tribal chairman of the Prairie Band Potawatomi Nation in Mayetta, Kansas, his wife Karen, and sons Trilby and Greg surround Shirley Willard in the center. They were in Jacksonville to play their Big Soldier Creek Drum for the Potawatomi Trail Pow Wow. The pow wow was started by Kent Eyre in 1993 after he met the Trail of Death caravan. The marker was sponsored and erected by Bill Norval of the Native American Fellowship Council, Peoria, Illinois, and the Morgan County Historical Society, Jacksonville, Illinois. The park is on the corner of East College Avenue and Johnson Street. (Photo by Bill Willard, May 19, 2001)