Fulton County, Indiana
The Potawatomi Trail of Death enters Fulton County from the north on Old 31 (Michigan Road). Follow this road through Argos, a town that did not exist in 1838. Continue going south to the first night's camp site at the Tippecanoe River. The village of Chippeway, located on the Michigan Road and Tippecanoe River, was the first white village in Fulton County. William Polke was the post master and established the first post office in his double log cabin trading post at Chippeway. Polke was the first white settler and came in 1830 to survey the Michigan Road.
Tuesday 4th Sep, traveled 21 miles from Twin Lakes to Chippeway, on Tippecanoe River north of Rochester, Indiana, on Michigan Road, now called Old 31.
Left encampment at Twin Lakes at half past 9 o'clock, leaving behind Chief San-ga-na with his family consisting of 13 persons, 3 of whom are very sick. Wheeler & Hopkins agree to furnish provisions during the sickness of the family and until San-ga-na may be able to report himself to the agency at Logansport. The day was exceedingly sultry and the roads choked up with dust. Traveling was attended with much distress on account of the scarcity of water. Reached Chippeway at sunset, having traveled a distance of 21 miles, five miles further than it was the intention of the Conductor [William Polke] to have gone but for the want of water. Camped at Chippeway [Tippecanoe River and Michigan Road or Old 31] north of Rochester. The number of horses belonging to Indians is estimated at 286 - the number of wagons engaged in the transportation 26. During the night 20 Indians escaped and took 2 horses.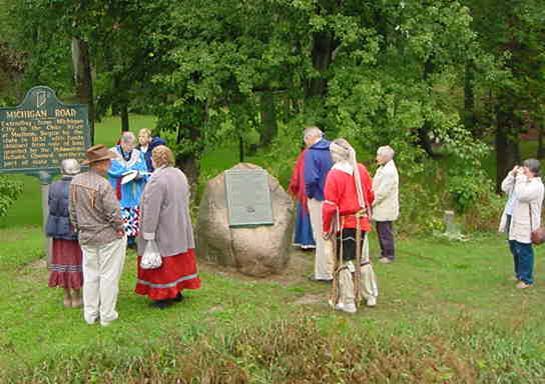 Rochester, Indiana - at Tippecanoe River on Old 31. GPS N-4106340 W-8613237
Chippewa-nung Village 1836 and Potawatomi Trail of Death 1838 metal plaque on huge boulder on south side of river. This is located two miles north of Rochester at Tippecanoe River bridge on Old Highway 31 (Michigan Road).
Pictured above is the visit by the 2003 Trail of Death Commemorative Caravan. From left: Sister Virginia Pearl, Bob Pearl, and Janet Pearl, facing Shirley Willard and Gretchen Meiser. On the right side of the boulder with plaque are Carol Layman, Galen Kabance, George Godfrey in red shirt, Lois Baldwin, and Ila Alsop taking a picture. (Photo by Bill Willard, Rochester, Indiana)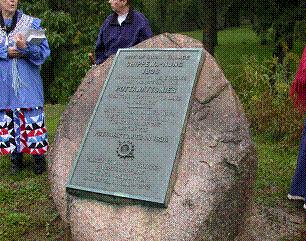 Rochester, Indiana - Tippecanoe River and Old 31. GPS N-4106340 W-8613237
This Trail of Death marker was erected in 1922 by Manitou Chapter of Daughters of the American Revolution. The boulder was so big that it took 5 horses to move it from Allen Holeman's farm (now Rex Bowen's) west of the Michigan Road. (Photo by Larry Prichard, Lynn, Indiana, on Trail of Death caravan, 2003.)
Side trip - To visit Fulton County Museum with Trail of Death and Father Petit memorial out front and exhibits inside, go back north a half mile and turn west on 375N and go one mile. Cross U.S. 31 and turn into museum drive. In front of the museum, south of the main door, is located the Father Petit - Trail of Death Memorial. This memorial consists of 4 boulders and a sign with map of Trail of Death. (This memorial is not on the actual Trail of Death route.)
To continue on Trail of Death go south on Old 31 into Rochester and stop at the court house.