Williamsport
Continue west on Independence Road past Independence. The road joins 55 and then you turn left on 28 and then turn right on Old 55 on River Road. This road takes you into Williamsport on Old 2nd Street. Turn left on Main Street and go one block, turn right on Old 3rd Street. The Trail of Death marker is in the corner of the park close to the street.
Friday 14th Sept. [Traveled 18 miles from Lagrange to Williamsport, Indiana.]
Left Lagrange encampment at early hour and proceeded at a quick pace on our journey - passing over a dry and seemingly unhealthy portion of the country. Our party continues to mend in health. Occasionally however, and indeed not unfrequently, persons thro' weariness and fatigue take sick along the route. This occupies much of our time. We place them in the wagons, which are every day becoming more crowded, and proceed. Reached camp near Williamsport at 4 p.m. As we advance farther into the country of the prairies, water becomes more scarce - the streams are literally dried up and we have reason to fear that unless soon refreshed with rain, our future marches will be attended with much pain, and suffering. 2 deaths took place this evening.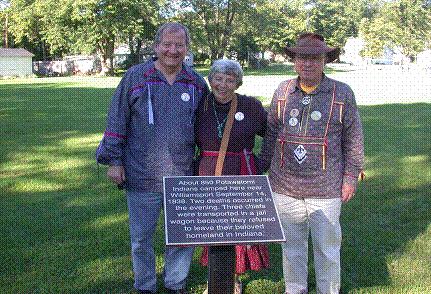 Williamsport, Indiana - Old Town Park on Main and Old 2nd Street. GPS N-4016845 W-8716933.
(Note: be aware that there is also a 2nd street in the new part of town.) Erected 1996 by Phil High for Eagle award and Boy Scout Troop 344.
Pictured above: Patrick Dockry, Sister Virginia Pearl and Bob Pearl by the Trail of Death marker in the park. They are cousins and members of Citizen Potawatomi Nation. Their ancestor on the Trail of Death was a little girl named Theresa or Equa-ke-sec, their great grandmother. (Photo by Larry Prichard, Lynn, Indiana, on Trail of Death Commemorative Caravan, 2003.)
To continue on the Trail of Death, go south on Old 2nd Street and turn right (west) on Washington Street. Go about 7 blocks and turn left (south) on Grant Street. This road follows the river south of Williamsport.