Hardee's Restaurant
Friday 12th Octr. [Palmyra, Missouri.]
Early this morning we prepared for marching and at 8 ½ o'clock were under way. We passed through Palmyra at 10 and had little difficulty in preventing the excesses of the Indians. After we arrived in camp, however, 2 or 3 Indians were found to have procured liquor, and became much intoxicated. They were immediately arrested and put under guard.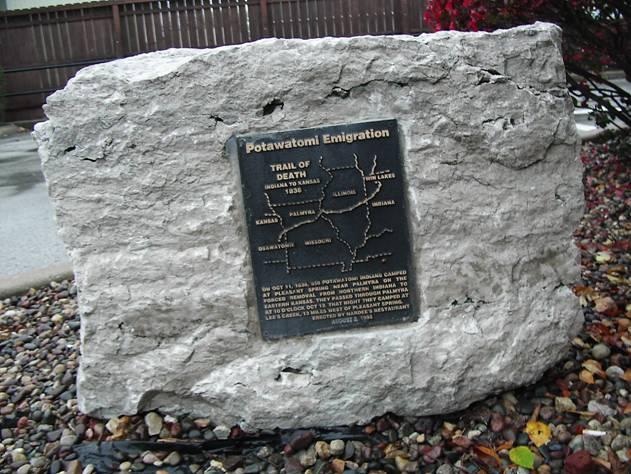 Palmyra, Missouri - near entry door to Hardee's Restaurant, GPS N-3947998 W-9131095.
Located at south side of Hardee's Restaurant, 500 East Cross Street, on west side of I-61. Erected in 1995 by the local restaurant owners, Spike Ehrhardt and son Stan Ehrhardt. The map was designed by Tom Hamilton on his computer. (Photo by Bill Willard, 2004)
Leave Hardee's by turning west (right) on Main Cross Street, go 4 blocks and turn south (left) at stop sign on Main Street. Go south on Main Street 6 blocks and at stop light turn west (right) onto Ross Street/ Hwy 168. Go west 1 mile and turn south (left) on Hwy C. Continue west 10 miles on Hwy C as it jogs right and left for several miles. Turn south (left ) on Hwy Z. Go 1 mile on Hwy Z and turn east (left) onto 238, a gravel road. Follow gravel Co. Rd. 238 for 2 miles to junction with Co. Rd. 240. Turn east (left) on Marion County Road 240. The See's Creek Trail of Death marker is next to the road in front of the Mt. Vernon United Methodist Church.