Monroe County, Missouri
Old Clinton
At Monroe City turn right on Hwy 36 West and go 5 miles to Hwy EE. Turn left on EE, cross railroad tracks and go south 1 mile to Monroe Co Rd 390. Turn right (west) on Co Rd 390 and go 3 mile to Hwy V. Turn left (south) on Hwy V and go 2 miles to Co Rd 370. (If it is raining, continue 1 &fract12; mile on Hwy V and turn right at Hwy FF junction, and go west 4 mile to Trail of Death Marker at junction Co Rd 327. This will avoid the low road and bridge across a creek that floods when it rains.) Go 1 &fract12; mile west on Co Rd 370 to Hwy FF. Turn right on Hwy FF and go west 1 &fract12; mile. After you cross the Salt River bridge, turn left on Co Rd 327. The Old Clinton Trail of Death Marker is at junction of Monroe Co Rd 327 and Hwy FF.
This is a hard route to follow and even the local Missourians get lost. The actual Trail of Death route is on abandoned roads which are now farm fields.
To get to Old Clinton Trail of Death Marker by way of Lakenan, Missouri:
To prevent getting lost from Monroe City, take Hwy 36 west for 13 miles to Lakenan, then turn left (south) on Hwy PP and go 5 mile on Hwy PP to junction Hwy CC and FF. Turn left on Hwy FF. Go ½ mile to Co Rd 327. Old Clinton Trail of Death Marker is on the right.
Saturday 13th Oct. [Traveled 17 miles from See's Creek to Old Clinton, Missouri.]
This morning as we were about to leave our encampment, a number of the Indians headed by the chief Ash-kum came up to Headquarters and requested an interview with the Conductor and Gen. Morgan. Ask-kum arose and in a short talk informed the Conductor that the Indians were unwilling that Gen. Morgan whom they had been taught to recognize as principal in the emigration should leave them. They felt, he continued, that Gen. Morgan was near to them as a protector - he had made them pledges upon which they depended, and the fulfillment of which induced them in part to consent to their emigration. The Indians also requested thro' Ask-kum liberty to travel less and remain longer in camp. Judge Polke answered. He informed that Gen. Morgan had voluntarily offered his resignation, and that he [Polke] had been appointed to conduct them to their new homes, with the consent of Gen. M. etc. etc. Gen. Morgan also responded and returned his thanks to the Indians for the interest which they manifested in his welfare. The chief I-o-weh dissented in strong terms from the sentiments expressed by Ash-kum. He stated that these men (alluding to Ash-kum and his associates) were not chiefs - that they were not entitled to respect as such. He wished that Judge Polke should conduct them to their new homes, and Gen. Morgan should return [to Indiana]. He was contented with the officers remaining with the emigration. The emigration left at 9 o'clock. Gen Morgan having previously departed. The day was very windy and the dust exceedingly afflicting. At 3 o'clock we arrived in camp at Clinton, a distance of 17 miles from See's Creek. Tomorrow we shall stay in camp.
(Amaziah Morgan was mentioned in Polke's letters as a heavy drinker. Apparently he had lied to the Indians and said he was in charge, and made promises to them that he had not the power to keep.)
Sunday, 14th Oct. [North Fork of the Salt River at Old Clinton, Missouri.]
Today according to a promise made the chiefs a few days ago, we remained in camp. The Indians attended service during the day, and seemed quite to enjoy themselves. In the evening the chiefs Ash-kum, I-o-weh and others, along with a number of the Indians, assembled at Head Quarters, and shook hands for a talk. They came, I-o-weh said, to demand the dismissal or suspension of Dr. Jerolaman, the physician for the emigration, whom they had ceased to like, and did not wish him longer to accompany the emigration. Judge Polke answered and informed them that their request was one of so much importance and so unusual in emigrations, that he hoped he might be allowed time not only to decide himself but to counsel with his officers. The Indians then retired, with the understanding that an answer would be given them tomorrow evening.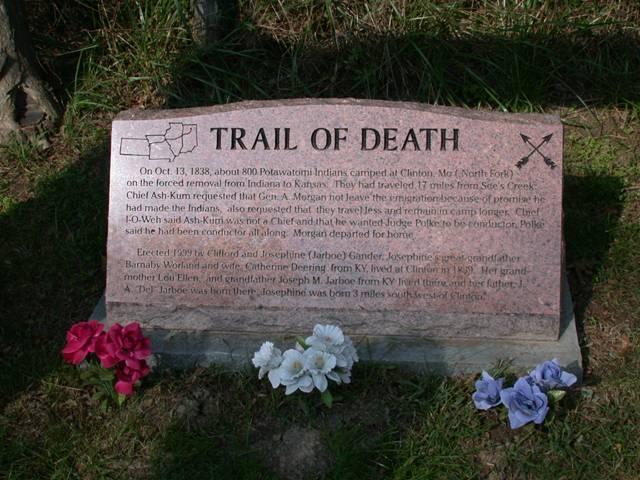 Old Clinton, Missouri - North Fork of Salt River GPS N-3936626 W-9155204.
Located 10 miles west of Monroe City between Hunnewell and Lakenan on FF road. Erected in 1999 by Clifford and Josephine Gander, Monroe City, Missouri. (Photo by Larry Prichard, Lynn, Indiana, on Trail of Death Commemorative Caravan, 2003.)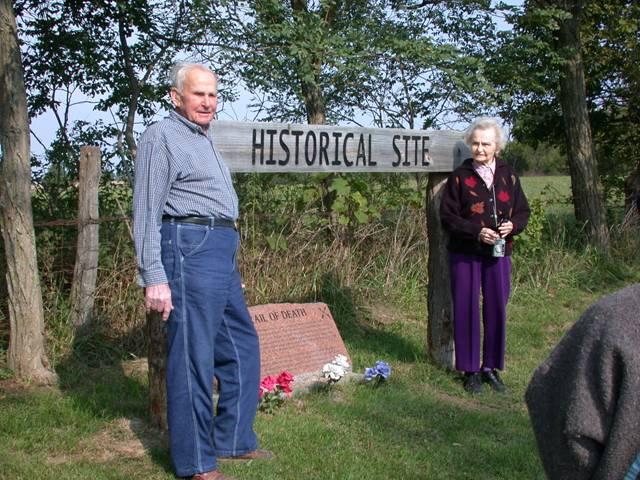 Old Clinton, Missouri - North Fork of Salt River GPS N-3936626 W-9155204.
Clifford and Josephine Gander by the Trail of Death marker they erected. Josephine's grandfather founded Clinton, a town that no longer exists and is known as Old Clinton now. (Photo by Larry Prichard, Lynn, Indiana, on Trail of Death Commemorative Caravan, 2003.)
Leaving the north fork of the Salt River, continue on the blacktop road which angles west as CC road. Go about 2 miles and turn south (left) on 553 which becomes 412. After a couple of miles, Co Rd 412 meets highway 15. Go straight south on 15 into Paris.