State Line City, Indiana
To leave Williamsport, go south on Old 2nd Street and turn right on Washington Street, which leads you out of town. There are two possible ways to get to the next marker. One is straighter and easier to follow, but the other follows the river and is more likely the route taken in 1838.
The straighter, easier way to get to the next Trail of Death marker is to go west on 28 to Tower Road, turn left (south) and go to Old Town, a crossroads now, and go west on 400. Turn south on 450 and follow road as it jogs to the left, but continues with the name of 450. This takes you to Marshfield, where you turn left (south) and go to 700, turn right on 600 and go 2 miles. Turn left (south) on 875 which jogs to become 900. Go 3 miles to Gopher Hill Cemetery on east (left) side of road at corner of 900 and 950. The Trail of Death marker is a boulder with metal sign close to the Gopher Hill Cemetery sign.
River Route - Another way to get to Gopher Hill Cemetery is to follow the Wabash River as closely as you can. This is probably the route taken in 1838 but today's roads do not go very close to the river. To take this "river route," you turn south (left) off Washington Street onto county road 50, also known as Grant Road, which turns right (west) on 400 S. Go about 1 mile and turn south (left) on Gillespie Road (county road 25?). (Follow the river no matter what the road numbers are.) You will come to Highway 63. Cross 63 heading west - this takes you northwest and you come to 900. Turn south (left) on 900 and go one mile, turn right (west) on 950. This 950 takes you to Gopher Hill Cemetery. The cemetery will be on your right (north).
Saturday 15th Sept. [Traveled 10 miles from Williamsport to near Gopher Hill Cemetery a mile from the Indiana - Illinois state line.]
Early on this morning we were on our way and traveled without interruption until 12 noon when we arrived at unhealthy and filthy looking stream, at which, from the reports of the citizens of the country, we were forced to encamp (near Indiana-Illinois state line). The young men among the Indians during the afternoon to the number of 25, were permitted to go on a hunting excursion - a permission which they have for some time seemed to covet. 2 small children died along the road. (Note: they traveled without interruption - does that mean they did not stop when the children died? Perhaps the white men did not even know the children died until it was reported after they stopped?)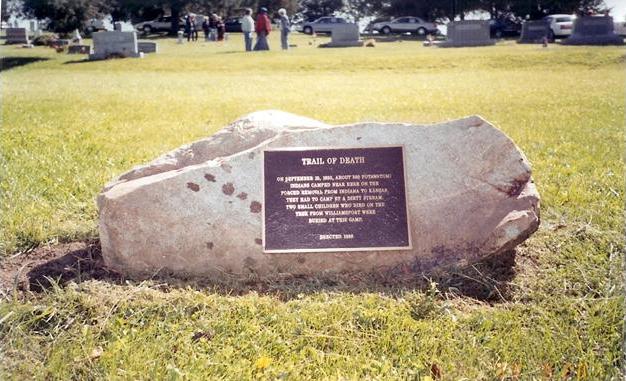 Near State Line City, Indiana - Gopher Hill Cemetery GPS N-4011120 W-8729427.
The Trail of Death marker at Gopher Hill Cemetery was erected in 1999 by Ken and Ilene Smith, West Lebanon, Indiana. It is a boulder with metal plaque 3 miles south of Johnsonville in rural Warren County, on county road 900 W and 950 S, which is 1 miles east of State Line City on the Indiana - Illinois state line. (Photo by Dolores Grizzell, Winamac, Indiana, on Trail of Death Commemorative Caravan, 1998.)
This cemetery has a sign stating it was started in 1835. It is believed that a couple of soldiers are buried there from General William Henry Harrison's army which fought the Battle of Tippecanoe in 1811 against Tecumseh's brother, The Shawnee Prophet Tenskwatawa, and the Indians at Prophetstown. The soldiers died on the march back south to Vincennes, Indiana, which was the Indiana Territory capital and where Harrison's home was. His house is now a museum. Some of the Indians on the 1838 Trail of Death were old warriors who had fought at Battle Ground.
Leaving Gopher Hill Cemetery, follow the road 900W going south. Turn west (right) on the first road 950S and go 2 miles to the state line.